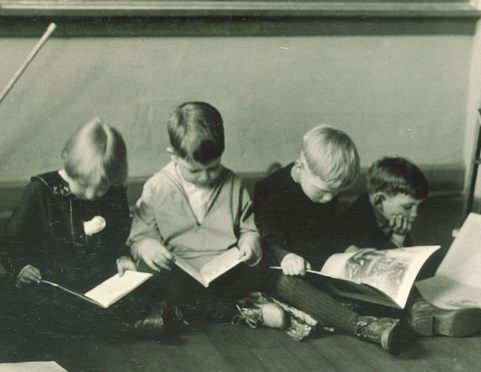 It is one of the biggest studies of its kind ever carried out by researchers in Scotland.
And now the Aberdeen Children of the 1950s project is starting to provide illustrations of how the oil and gas boom in the 1970s and 1980s enhanced many people's lives.
The project followed 12,150 state school children in the Granite City from 1962 onwards.
It has collected information from childhood, including school tests, through to adulthood, using such initiatives as questionnaires about health.
Researchers from around the world have employed the findings to investigate questions about how different life experiences and circumstances can affect people's health, wealth and happiness.
Last night, two of those involved in the Aberdeen University analysis, Marjorie Johnston and Krzys Adamczyk, unveiled some of the lessons of the study.
They revealed that around 75% of the 7,183 members who completed a postal questionnaire in 2001 – who are now aged between 63 and 69 – were still resident in the Grampian region of Scotland, indicating that many people have enjoyed job security in and around the offshore sector, allowing them to remain close to their roots.
The research has also highlighted that around 10,000 of the original participants are still alive with average life expectancy having risen by almost a decade in the north-east since the 1950s.
Mr Adamczyk said: "The oil boom made a significant difference to the lives of so many members of the Aberdeen children's group.
"It happened just as many of them were leaving school or progressing into further education and there were so many more opportunities for that generation.
"In the 1970s, a lot of American expertise was required after the discovery of oil in the North Sea, but many Aberdonians who started out in blue-collar jobs graduated into white-collar managerial positions and management roles in the 1980s and 1990s.
"That transformed the jobs situation in Aberdeen and the surrounding areas.
"Usually, when you look at what your classmates have done, you'll find many of them have to travel elsewhere to find the work they want.
"But the fact that so many state school children from half a century ago are still living in this area is remarkable.
"We shouldn't generalise, but it has had a massive impact on so many people who were offered opportunities which their parents never had."
Dr Johnston has investigated the health of those involved in the Aberdeen study and underlined how issues such as child poverty and social deprivation in the 1950s have played a part in people's health as they grow older.
She said: "We know how many people have been admitted to hospital and there is much more analysis and understanding of such things as cancer and heart disease, with more adults being diagnosed and better survival rates.
"As a consequence, most of the original group are in better health and can anticipate living longer than in the 1950s and 1960s, but, of course, that brings its own challenges for the NHS.
"We are now looking at how they get on in their 60s, what social interaction they have, and how they deal with such things as retirement."
She added: "We are really keen that anyone who thinks they may be a member, but who has not heard from us in recent years, gets in touch.
"We can give them more information and include them in future research projects if they so wish.
"Anyone born in Aberdeen between 1950 and 1956 and who attended primary school there is likely a member."
Study manager Heather Clark can be contacted by calling 01224 437288 or emailing children1950s@abdn.ac.uk.