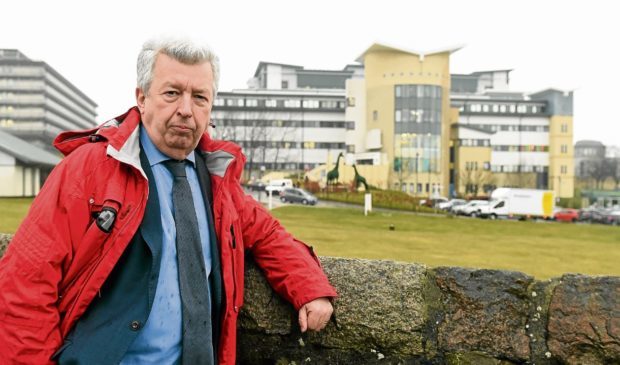 Thieves have been branded "cowardly" for stealing thousands of pounds worth of valuables from vulnerable people in hospitals across the north-east.
Statistics obtained by The Press and Journal reveal they have targeted cash, clothes and even Christmas gifts at hospitals in Aberdeen, Aberdeenshire and Moray.
The details, released through a Freedom of Information request, cover the last three years and also show NHS Grampian has paid out more than £29,000 to reimburse patients for lost and stolen items.
Among the items noted as being stolen were jewellery, a games console and no fewer than six bicycles.
This year already, the health board has paid out £4,040 for items lost and stolen in their hospitals.
Last year, claims cost the NHS £5,702 and between 2017-18, bosses paid £11,493 to patients.
The NHS valued items stolen in 2016-17 at £8,083.
North East Scotland MSP Lewis Macdonald has called for the thieves to face the full force of the courts.
He said: "People who steal in or from hospitals are guilty of theft, and they are also guilty of targeting the most vulnerable people at the most vulnerable times.
"Their criminal activity also diverts valuable public money away from vital healthcare services in order to compensate their victims.
"Anyone convicted of such cowardly crimes should be made to face up to the consequences of their actions."
Other items taken from Grampian hospitals include shoes, tablets and bank cards.
A spokeswoman for NHS Grampian said it was disappointing whenever a theft occurred but added: "Because they are public buildings, we have to strike the right balance between allowing relatively free movement and appropriate security measures.
"We therefore actively encourage staff, patients and visitors to be vigilant and to report any concerns or incidents, no matter how minor.
"Patients are also advised not to bring valuables with them into hospital."
NHS Grampian has a range of measures, such as CCTV on sites in an effort to combat criminals, as well as physical barriers such as digital and electronic locks, where staff ID cards or codes are required for access.
The health board's own security team work also closely with police and will investigate any reported incident.
The spokeswoman added: "We would reassure people visiting our hospitals that we take security breaches very seriously and that the appropriate action is always taken."​
NHS Highland
NHS Highland also revealed items stolen or lost within its hospitals have cost it more than £7,000 since 2016.
In total, there were 59 incidents where health bosses paid out compensation to both patients and staff who may have fallen victim to thieves.
Bikes, clothing and even light fittings are said to have gone missing from the north's medical centres.
Highlands MSP Edward Mountain called for bosses to take "urgent" action.
"A stay in hospital is often a distressing enough time for patients as it is without having the added fear of their valuables being at risk of theft," he added.
"Items going missing appears to be a persistent problem in NHS Highland and that is unacceptable."
Kate Forbes, MSP for Skye, Lochaber and Badenoch, said the figures were "desperately sad" adding: "Stealing from hardworking staff and vulnerable patients is absolutely despicable."
NHS Highland said it encouraged staff to be vigilant towards thefts but that no system could be 100% effective.
A spokesman added: "We advise all our patients about how to keep their valuables safe while on NHS premises and we encourage our staff to be vigilant and to report any concerns about potential theft to their line manager."