'Music is my medicine': Aberdeen teenager finds voice after battle with serious condition
By
Ellie House
November 10, 2019, 6:00 am
Updated: November 10, 2019, 10:28 am
Lauren Yule is softly spoken, and flushes crimson when talking about herself.
She glances down at her hands and nudges her grandmother, Margaret Smith, who sighs and smiles knowingly.
The pair clearly share a remarkable bond, as Lauren went to live with Margaret when she was just two years old.
She chimes in as Lauren squirms in embarrassment, much like any other teenager.
"Lauren doesn't drink fizzy drinks and she only washes her face in cold water," says Margaret proudly, referring to Lauren's blemish-free skin, which is clear and rosy.
"I get spots," she insists, and shrugs off the compliment.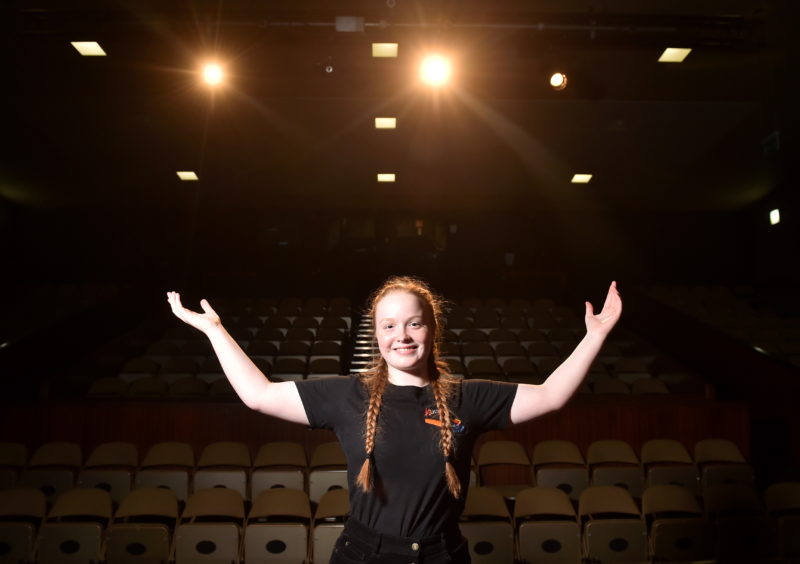 She is ready to start the day at Robert Gordon's College, with her uniform perfectly pressed and long auburn hair braided into two French pleats.
"She does her hair herself, she always amazes me," says Margaret, before gazing at Lauren for a second.
Were you to spot the schoolgirl in the street, you would perhaps not notice anything particularly unusual.
But at 4ft 8.5ins, the half being of utmost importance to Lauren, she is considerably shorter than her peers.
Numerous pieces of paperwork must be presented before she can pass through a scanner at the airport and, until an operation rectified the problem, Lauren's kneecaps routinely dislocated.
For this youngster from Northfield is battling against two conditions, which, although unrelated, have had a considerable impact on her life.
She suffers from bone dysplasia and Turner syndrome, and has undergone 12 operations.
Turner syndrome affects one in every 2,000 baby girls, and is caused by a chromosome variation which happens randomly at conception.
There is no cure, and the symptoms differ for each individual. Bone dysplasia can cause abnormally-shaped bones, and treatment includes growth hormone therapy or even surgery in the more severe cases.
After numerous attempts to straighten her legs using metalwork, Lauren is now facing the next big medical procedure.
"I know I want to be a mother, but I could start early menopause tomorrow because of Turner syndrome," she says, matter-of-factly.
"So I'm in the process of trying to freeze my eggs to buy me some more time.
"I've already been to the fertility clinic, I actually had to go to the maternity unit in Aberdeen.
"It was full of couples; I didn't really mind that too much."
Margaret explains: "Girls with Turner syndrome normally have under-developed ovaries, so they don't get periods and are infertile.
"It's caused by a missing chromosome. But in Lauren's case, her chromosome is mixed up rather than missing. So every time she gets a period, she's so happy because it gives her hope she can have a baby in the future."
Lauren clearly possesses a maturity beyond her years, and is quietly confident despite the blushes.
She was granted a full bursary to Robert Gordon's, where staff realised her potential.
Her determination was recently recognised by the school, when she was awarded for resilience and progress.
Resilience is clearly something Lauren possesses in bucketloads, having fought back against numerous obstacles.
She may loathe being centre of attention, but ask Lauren to sing and she becomes a completely different person.
Having spent early childhood trying to blend in, Lauren is now happy to stand out – on the stage at least.
Shoulders back and beautiful voice soaring, music has been her salvation against constant physical pain.
It has also enabled her to develop friendships, something which sufferers of Turner syndrome can struggle with.
"She has what's called Mosaic Turner's syndrome," says Margaret.
"Lauren is deaf in one ear and she also struggles with friendships. At primary school, she was that little girl stood on her own.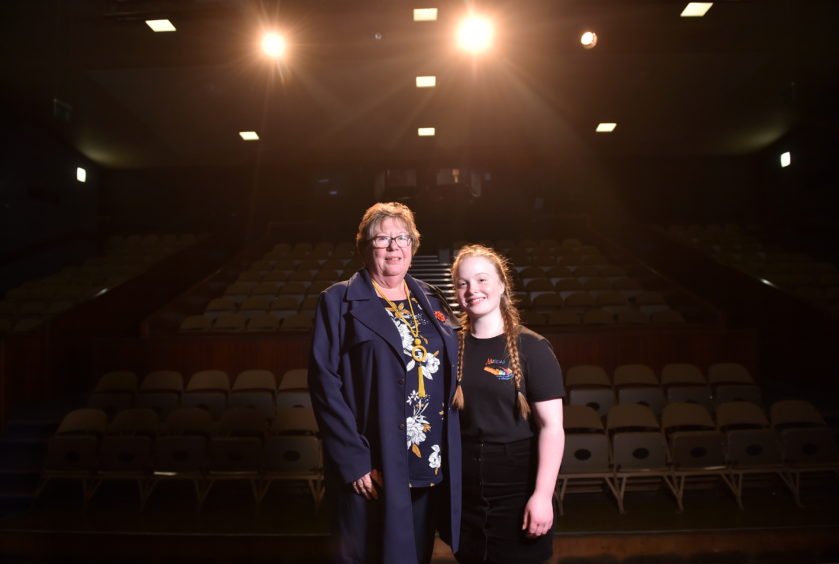 "I now thank God that she has two close friends, because people with Turner syndrome can struggle to read emotions and pick up on facial expressions.
"When I see my granddaughter take to the stage, she amazes me. She amazes me every single day."
From a quiet little girl to a young woman belting out Abba hits, what is responsible for Lauren's transformation?
She has been helped by an Aberdeen-based music and theatre charity since the age of five, and credits it for enabling her to find her passion in life.
Music 4 U Stage School was founded by Debbie Kirkness, who believed there was a lack of music and performance opportunities for youngsters in the city.
The charity started off with seven members in 2005, and that number has increased 10 times over.
There is a strong focus on inclusivity, and around 40% of places are for those with social, learning or physical disabilities.
"I have always been passionate about singing and making music," says Debbie.
"I truly believe that music can break down barriers.
"Groups will say that they are inclusive, that is until someone with a learning disability floods the toilets.
"Then they are shown the door.
"That doesn't happen at Music 4 U.
"It's been a hard slog; our name is finally getting out there a bit more.
"Our youngest member is aged six and our eldest is 32.
"Technically we don't take people over the age of 25, but we aren't going to kick you out if you're already performing with us."
The charity currently offers eight different projects, and is based at Aberdeen Arts Centre.
It also puts on dozens of shows throughout the year, and tutors are on hand to help youngsters discover their potential.
"We call them enabler tutors; the difference music can make is amazing," says Debbie.
"It is a universal language, there aren't enough words to describe what music can do."
Lauren now volunteers for the charity and participates is various shows, and is even confident singing solo.
"We came across Music 4 U in Northfield community centre," recalls Margaret.
"We heard about this free event; as a grandma raising a grandchild, I was always conscious about money.
"So when I heard it was free, I took Lauren along.
"When she was little she was incredibly quiet.
"I hoped it would help her.
"She used to stand on the stage with a face on, she'd hide behind everyone.
"I told Lauren that she didn't need to go if she didn't like it, but she insisted she did.
"The best thing about the charity is that it includes everyone, even people who face challenges.
"You'll see someone who has cerebral palsy helping someone else up on to the stage.
"We don't like the word 'disability' in our house.
"Lauren is just like any other teenager, she's normal."
She nods her head in agreement, and has had no choice but to shrug off nasty comments over the years.
"Although I have these conditions, I think a lack of confidence has always been my main problem," Lauren admits.
"That's why Music 4 U has helped me so much.
"I don't pay attention to what people say about me.
"I don't really see what all the fuss is about."
Her stoicism may well be down to Lauren's upbringing, and the incredible role which Margaret has played in her life.
"I think you could say there has been a lot of tough love over the years," says Margaret.
"Lauren was diagnosed with Turner syndrome when she was only four years old.
"When she was born, she was bow-legged.
"Some operations have been a great success, but others have caused further problems.
"She was left with one leg shorter than the other, and she became knock-kneed after an operation to straighten her legs.
"I remember these people coming to the house, and they said they were going to lower all the light switches and adapt things for Lauren's height.
"My response was to say: 'hang on a minute, absolutely not.'"
"If you adapt that house, you're limiting Lauren in a way.
"You're confining her to this space, you aren't preparing her for the real world.
"I've always told Lauren that the only person she can rely on is herself.
"It's tough love but it has got her this far.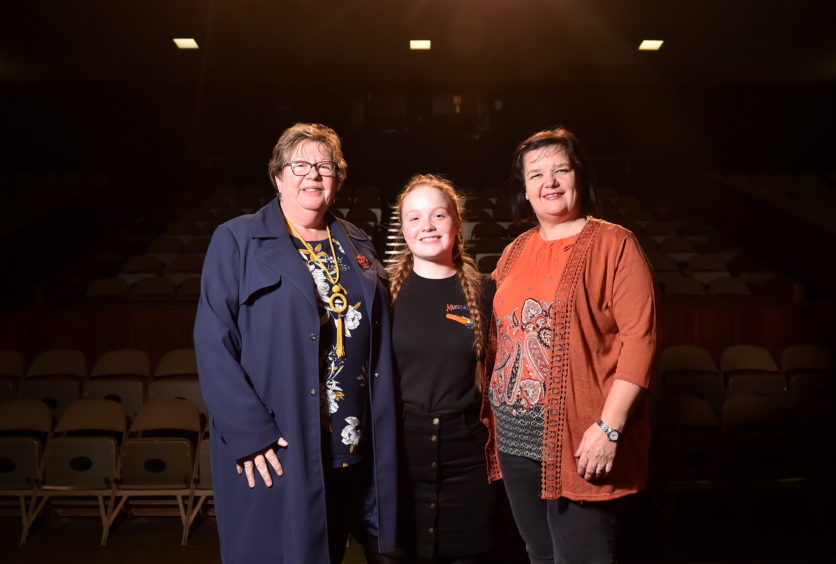 "There is always a way of doing something, even if you have to use a stool to reach."
Lauren is currently learning to drive, as those who receive the higher rate of the mobility component of disability living allowance, can hold a driving licence from the age of 16.
She hopes freezing her eggs will be the final medical procedure.
"There has been a lot of operations over the years, and I injected myself with a growth hormone from the age of seven," says Lauren.
"My knees used to dislocate all the time; I'd be crossing the road and my knee would pop out.
"That's fixed now, although I can still pop out my shoulders.
"Music is my medicine. When I'm in pain, I sing my way through it."
One particular incident saw Lauren bear excruciating pain after she was forced to have her toenails removed.
"People with Turner syndrome can struggle with nails, Lauren's toenails were digging in at the sides," explains Margaret.
"I found her in the shower with tears streaming down her face as the water hit her feet.
"She was in so much pain and there she was, singing."
The charity's latest showcase, One Night Only, takes place tonight at Double Tree by Hilton Treetops – and will include a dinner and drinks reception.
For more information about Music 4 U, visit m4u.org.uk