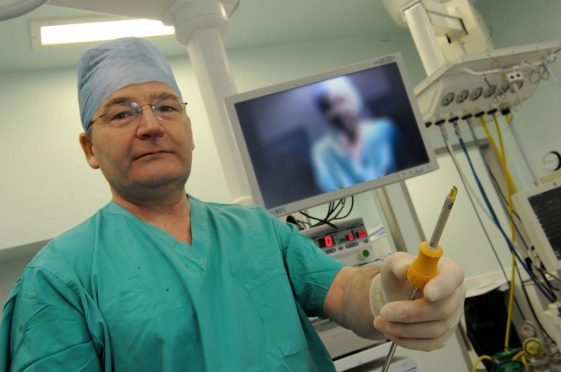 The Queen's former surgeon in Scotland, who accused NHS Grampian of unfair dismissal, has won his case at an employment tribunal.
Professor Zygmunt Krukowski held the prestigious position for 12 years until his resignation in May 2016 having been a consultant at Aberdeen's Royal Infirmary (ARI) for more than 25 years.
The £150,000-per-year surgeon sued NHS Grampian for constructive unfair dismissal, claiming that the health board tried to discredit him after he raised concerns about patient safety in 2014.
In their lengthy 120-page decision document, Employment Judge Alexander Meiklejohn and panel members Stuart Gray and Ms Mary Williams-Edgar unanimously agreed Professor Krukowski had been unfairly dismissed.
However, they did not find that he had been discredited nor racially discriminated against by the health board.
Professor Krukowski flagged patient safety concerns to senior management in 2014.
The 70-year-old's revelations led to turmoil at the health board, with increased government scrutiny, two critical reports of Aberdeen's hospitals and the eventual departure of the several high-profile figures.
A probe by the Royal College of Surgeons of England (RCSE) subsequently uncovered a breakdown in working relationships within Aberdeen Royal Infirmary's general surgical team.
The royal physician was, however, suspended from his role over bullying allegations, along with seven other senior doctors – but while cleared of any wrongdoing by the General Medical Council, he resigned shortly afterwards.
The tribunal heard that Professor Krukowski had felt "no option" but to resign, for the sake of his own health and wellbeing.
During evidence, the tribunal paused as he broke down and wept while re-visiting the events which led to his resignation in 2016.
Judge Meilklejohn said: "We believed the recollection of this was genuinely distressing and his reaction spoke more eloquently than words could convey how he had felt at that time."
Professor Krukowski's legal representative Russell Bradley described the health board's investigation into the complaints raised against him as "incompetent" and questioned its impartiality.
Judge Meiklejohn agreed.
Last night Professor Krukowski said he was "gratified" at the decision, adding: "This process has been traumatic and not how I would have chosen or expected to leave the hospital and patients to whom I devoted more than 40 years of my professional life.
"I am profoundly grateful to my family and the patients, friends and colleagues who supported me over the last four years."
A spokeswoman for NHS Grampian said: "We note the findings of the tribunal. We will look to learn from its comments on the processes and procedures followed."
A hearing date to award compensation is yet to be set.