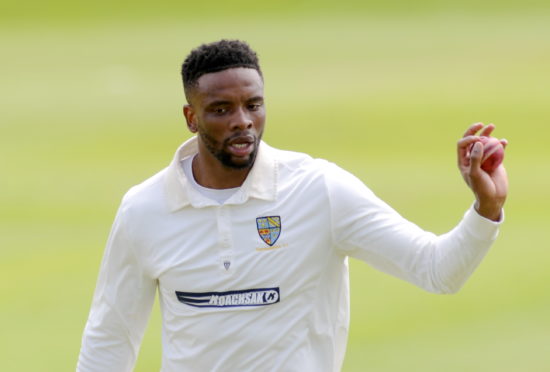 An Aberdeenshire Cricket Club professional who fell critically ill this summer is making the first signs of recovery.
South African cricketer Solo Nqweni was rushed to hospital in July, with his family flying to Aberdeen to keep a bedside vigil.
It has now been confirmed the 26-year-old is suffering from Guillain Barre syndrome, a rare but serious autoimmune disorder that which affects the nervous system.
It can cause weakness, numbness, and in some cases, paralysis.
After four months at Aberdeen Royal Infirmary, Mr Nqweni managed to record a short video wishing his South African compatriots the best in their Rugby World Cup final clash with England, which they won 32-12.
Robert Humphries, director of World Sports Xchange – the agency which helped arrange the player's move to Mannofield – is positive about Mr Nqweni's progress over the last fortnight.
He said: "Solo is now at a stage where he can swallow soup and has a very small amount of movement in various parts of his body.
"I flew up to see him in September and talked his ears off for three hours or so, but he was unable to swallow or get any volume in his voice.
"Yet, as people can see from the video, he can talk a little and things will get better, albeit very slowly.
"The last few months have been very difficult, not just for Solo, but for those around him who love him.
"He knows the road to recovery will be a long one, and he needs to be up for that challenge mentally, but Solo is such a strong character and his resilience will help him to overcome this horrible condition."
Mr Humphries paid tribute to the wide range of people who have helped the player in the last four months.
He added: "The support of Aberdeen CC, his friends who have visited, and the work of the hospital and physio staff has been amazing.
"I also have to say what a simply amazing family network Solo has. They have been with him constantly on rotation from very early in his diagnosis and they have been a massive support.
"I was fortunate enough to meet his aunt and his grandparents when I visited and for him to be surrounded by such strong people means that he has no choice but to get back to full health, because they will push him all the way."
The news has been welcomed by some of the leading figures in Scottish cricket, including national coach Shane Burger.
He said: "This is really wonderful news. Solo is a true example of what fighting spirit is all about and he inspires others every day to overcome challenges.
"There is more to life than cricket and this story proves that."