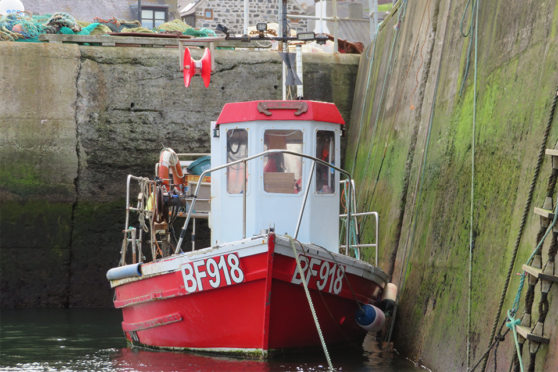 The Marine Accident Investigation branch has found that a Macduff skipper who drowned earlier this year could have been saved if he had worn a lifejacket.
The life of fisherman Tony Masson may also have been spared if he had "ready access" to a knife after it was found the rope holing him underwater was "almost completely severed".
Mr Masson died in March after being hauled overboard from his vessel, Sea Mist, after becoming entangled in a rope.
The 67-year-old was working creels to fish for crab in his usual waters to the north of Macduff.
Details of his death have been released in a report by the Marine Accident Investigation Branch (MAIB), along with safety lessons learned from the incident.
The report states:  "Sea Mist's skipper was working alone on deck without a personal flotation device (PFD) and there were no barriers in place to separate him from his fishing gear.
"The investigation concluded that he drowned either because he was dragged underwater by the weight of the creels and was unable to free himself in time to reach the surface, or because he was unable to keep himself afloat after releasing his foot from his wellington boot."
On the day of his death, Mr Masson's son, Duncan, was out on his boat, Ocean Lee, when he noticed the Sea Mist circling with no sign of his dad on the boat or on the water surface.
A large scale search and rescue operation ensued after Duncan "saw his father's baseball cap floating in the water".
He then "recovered a leader that had one of his father's wellington boots caught in it".
Mr Masson was found around an hour after the search began, "floating face-down just under the sea surface", and was pronounced dead on arrival at hospital.
The MAIB found it was evident from the cut in the creel leader's rope that Mr Masson "fought hard to free himself".
Had he manged to free himself from his boot and made it to the surface alive, the nine degree water temperature would have sent him into water shock and cold water incapacitation "within minutes".
The MAIB report states: "In such circumstances, without the buoyant support of a PFD, the rapid onset of drowning would have been inevitable."
Three safety lessons were taken from the fatality: a means of separating the crew from the rope "would probably have prevented this accident", "a lifejacket might well have saved the skipper's life" and quicker access to a knife may have also prevented his death.
Mr Masson, who had been in the Royal Navy until 1972, was "known to regularly wear his PFD when fishing" and carried a knife.
He left behind wife Pat, daughter Tracy, son Duncan and his fiance Anita.
He was also Granda to Jordan, Shaunnie, Lucas and Leesa.
His family did not wish to speak yesterday.