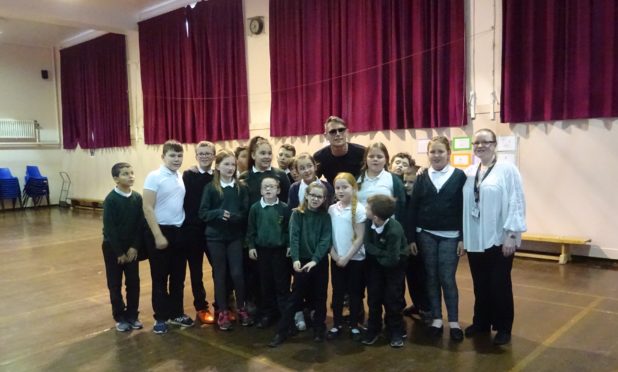 A stage star who made his name on Eastenders delighted youngsters when he visited an Aberdeen primary school today.
John Partridge is currently appearing at His Majesty's Theatre in Cabaret, and made an informal visit to Sunnybank School to help pupils rehearse for their Christmas show.
The 48-year-old singer and dancer, who played Christian Clarke on the BBC soap, ran workshops with the pupils to introduce them to the world of musical theatre.
The cast for the Christmas show were delighted when @mustbejp came to visit and did a cast workshop with them. Not sure who was more excited…the children or a certain member of the staff! #BelieveAchieveSucceed #justlikebirdsofafeather pic.twitter.com/GjLBRtVued

— Sunnybank School (@sunnybanksch) November 15, 2019
Staff and students were delighted to welcome Mr Partridge as they posed alongside him for photos whilst he shared his experience and knowledge with the children.
Cabaret, which details the nightlife at the Kit Kat Klub, has been showcased in the city all this week with its final show taking place tonight.