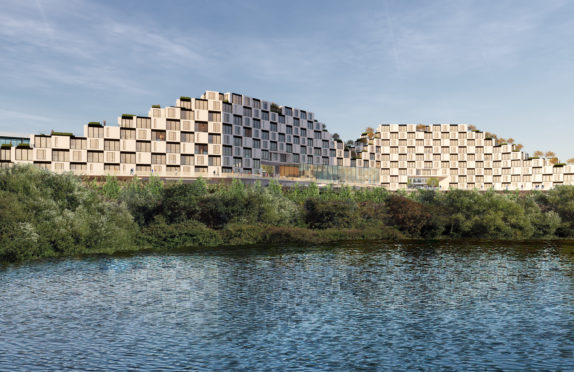 A ten-storey, 250 home development on the edge of Aberdeen's Rubislaw Quarry can still be a commercial success, a leading planning boss has said.
Canadian firm Carterra want to build the one, two and three bed flats, a gym, a public bistro and promenade along the north side of the water-filled site.
The company went back to the drawing board in October, after their previous £68 million scheme for 300 luxury apartments and facilities including a mini-museum was thrown out by the council's planning committee.
The original scheme proved highly contentious and drew more than 350 objections, with residents fearing the height of the buildings would block their views and increase  traffic to an unacceptable level.
A long-running conflict with local businessman Hugh Black, who wants to create a £6 million heritage centre on the southern edge of the site, was also ongoing.
The firm appealed the council's decision but the Scottish Government ruled in the local authority's favour on appeal.
Now they are back and yesterday members of the public got a first glimpse of the "scaled down" development.
It retains much the same design, but with one less block, and would take shape to one side of the city landmark.
Once consultation is completed, a formal planning application will be submitted to the council.
Maggie Bochel, a director with Aurora Planning Ltd, is working with Carterra to develop the scheme.
She said: "We have taken onboard the comments made on the previous scheme by the public and the councillors and by the Scottish Government reporter and we have amended the scheme accordingly.
"It is significantly smaller than it had been but we have retained all the positive aspects of the previous scheme.
"We are still providing private sector, rented accommodation and public access to the quarry by way of a promenade, high quality landscaping and a public bistro.
"I think the private rented sector is still something relatively new to the Aberdeen market and we, and our clients, still believe there is a demand for that."
Mr Black, however, said: "They have scaled it down but I don't think they have scaled it down enough.
"We are still talking about 250 units there, which to me still represents overdevelopment.
"I can't see why the public, which was so against the last scheme, wouldn't feel exactly the same way about this one."
Local residents attending the consultation were divided.
Claire Fowlie said:  "I just don't see any need for it in the area.
"We already have a lot of hotels, restaurants and rented apartments nearby. I think this could take away custom from our existing local businesses."
Andy Leggat added: "When the sun is out on the quarry you could almost be anywhere in the world, it is so peaceful and relaxing.
"I have concerns there could be noise from the construction but I think when people are living there it would be fine."