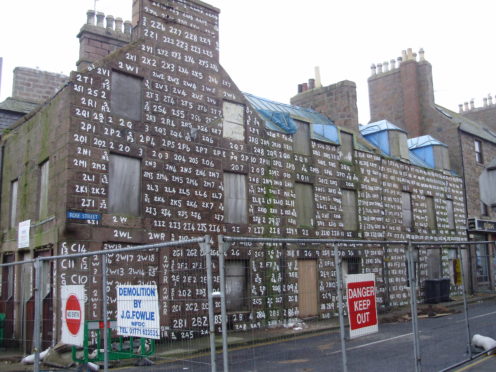 A study has found the salvaged stone from a row of listed Peterhead properties demolished in 2009 could be used to reconstruct the building.
The three 18th-century buildings that once stood at the corner of Rose Street in Peterhead were taken down brick by brick after housing group Tenants First let them fall into a state of disrepair.
Before the demolition, each pink granite block was numbered and put into storage by Aberdeenshire Council so the B-listed 34 Broad Street and C-listed 1-3 Rose Street could be effectively rebuilt.
They were also photographed.
To find out the viability of a rebuild the Peterhead Development Partnership commissioned a group to carry out a technical study,
Conservation architects LDN Partnership, in association with local quantity surveyor John Pascoe and specialist stonemasons Harper and Allan, carried out the work and found that it could be possible to reconstruct using the old stones.
Although the site was inherited by Sanctuary Housing in 2016, they do not wish to redevelop the premises themselves.
Now, Aberdeenshire Council's regeneration team is seeking the views of the community on what purposes the new building could serve.
Using the survey drawing and the photos of the former buildings, there is the scope that a future developer could reconstruct a building that could be used for commercial, residential, community, cultural or educational use.
Nick Brown of Aberdeenshire Council's regeneration executive said: "The objective of the technical study was to determine if it is practical for a future developer to reuse the salvaged stonework being stored by the council.
"The study has now been completed and demonstrates that despite some minor problems with the salvaged stonework, it is still possible to largely reconstruct the exterior of the former building in a productive manner."
He urged local residents to put forward their suggestions on what the site could be used for.
Any ideas should be sent to the Peterhead: Focusing on the Future Facebook page.
The two-storey buildings enjoyed varied tenancies and uses in their past – in 1855 the property at 34 Broad Street served as both a house and banking offices before the latter became a shop in 1884.
The C-listed buildings at 1-3 Rose Street saw use in the 1880s as a house, a hairdresser, a store and were also tenanted by a tinsmith.
PPeterhead Development Partnership is collaborating with Sanctuary Housing to execute a temporary art installation upon the hoardings around the site next year.