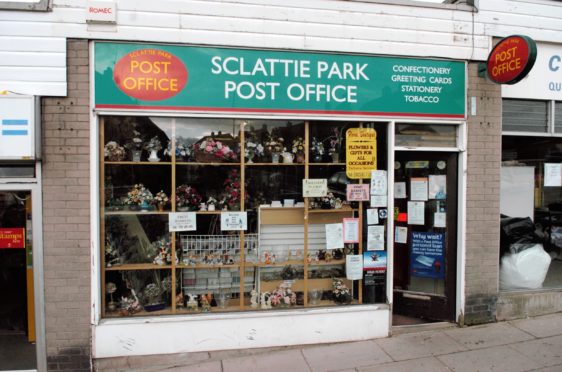 Talks are under way to bring a post office back to an Aberdeen community.
Sclattie Park Post Office closed earlier this year, after post mistress Helen Donald decided to retire after 20 years.
There had already been complaints about the shortage of provision in the area following the closure of Bucksburn Post Office in Old Meldrum Road in June 2016.
Now the Post Office has confirmed talks are under way with local retailers to take on the Sclattie Park service – but revealed there had been no uptake for the Old Meldrum road branch.
Kelly Innes, from the Post Office Group's chief executive office, confirmed the news in a letter to Aberdeen Donside MSP Mark McDonald.
She also revealed another applicant is keen to open a branch in nearby Bankhead.
She wrote: "I'm aware that customers will be concerned by the loss of Post Office services.
"I sincerely apologise for the inconvenience caused and want to reassure you that we are committed to restoring services and that we've been exploring opportunities in the local area.
"When Bucksburn Post Office closed in June 2016, we advertised the opportunity on our recruitment website and approached local retailers to see if they were interested in running a service.
"Unfortunately, we haven't yet received any applications."
The remaining post office at Sclattie Shops shut in March when Ms Donald retired.
At the time, she admitted an attempted armed robbery in 2018 did "have an effect" on her decision to step down.
Mr McDonald welcomed the news of progress towards finding her replacement, adding: "I am pleased to learn that Post Office Limited has received some interest from local businesses in running a service in the Sclattie Park area and are in early discussions with a potential applicant.
"I have been further advised that Post Office Limited is looking for opportunities to open a new location beyond these areas and that a potential applicant is looking to provide services in the Bankhead area of Aberdeen."
Last night a Post Office spokesman said: "We always want to maintain services as we understand how important a Post Office can be to a community and we apologise for any inconvenience caused.
"We are seeking new partners to take on Bucksburn and Sclattie Park Post Offices and we are currently in discussions with retailers interested in these opportunities.
"We would like to reassure customers that we will continue to work hard to restore services to the communities as soon as possible."