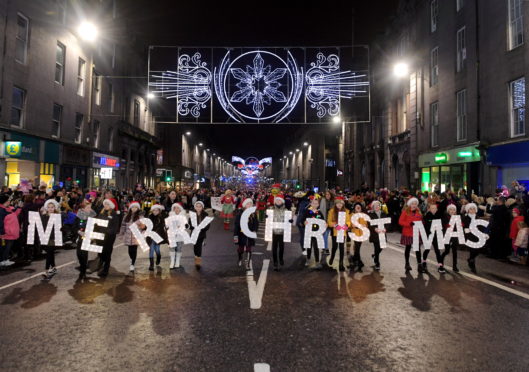 Medieval figures carrying flaming torches had the Wow factor for hundreds of people in Aberdeen last night as part of the city's Christmas lights switch-on parade.
Scores of families lined Union Street to take in the procession, which was led by members of Grampian and District Pipes And Drums, as the festive season well and truly got underway.
The crowd cheered as the Christmas lights, hanging above the city's main thoroughfare, were illuminated while the parade progressed along the Granite mile.
Knights, foot soldiers and peasants carrying flaming torchlights caught the eye of many gathered behind the barriers.
They were invited to march in celebration of the 700th anniversary of the Stocket Charter, signed by King Robert the Bruce.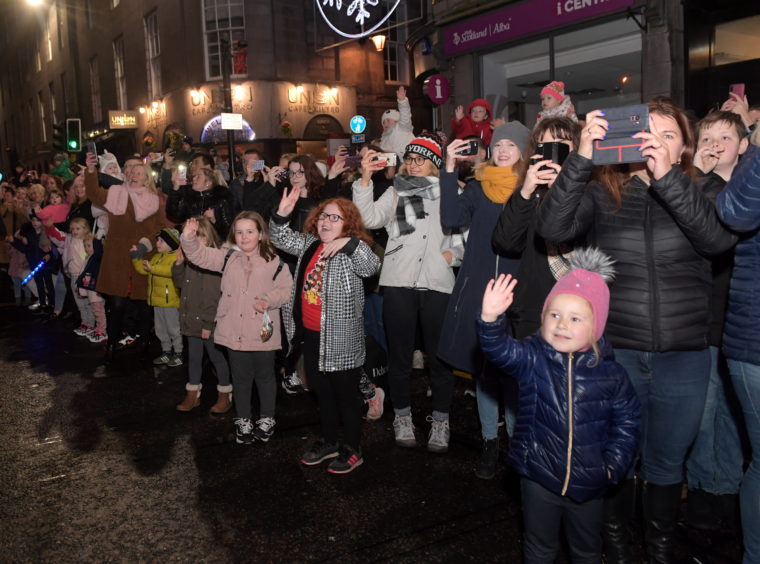 Bruce – portrayed by a modern representative – led the medieval procession last night, and was acknowledged for signing the scroll in December 1319 in recognition of the shelter The Granite City provided him as an outlaw.
One of the most well-known measures outlined in the scroll is the Common Good Fund, which the city still uses to fund a number of charitable causes every year.
Youth groups, pantomime characters, sports clubs, motor enthusiasts, emergency workers, choirs and charity volunteers followed the parade, which set off from Albyn Place towards the Castlegate at 5.30pm.
Before it, a number of Santas on scooters sped down Union Street, followed by hundreds of runners in the Charlie House Santa Fun Run.
Father Christmas also featured in one of the floats in the parade, where he sat in his sleigh as snow flurried off on to the crowd below.
A number of people in attendance said his appearance was the highlight of the parade.
A Newmachar mother, with her extended family, added: "This is the first time we have come in for it and it was amazing.
"I have always wanted to come, but was worried the crowds would be too big and my children wouldn't see anything.
"But it was well organised and there was something for everyone. It was magical."
Three Girlguiding leaders, dressed in brightly-coloured Christmas Tree costumes, said the people lining the streets had been "excellent".
They added: "We have done this for a number of years and it was great this year.
"We were thankful the rain stayed off until the very end.
"There were lots of people and the parade flowed a lot better this year."
A brief shower of rain did not stop the crowds staying in Aberdeen after the parade, with long queues waiting for entry to the Christmas Village in nearby Broad Street.