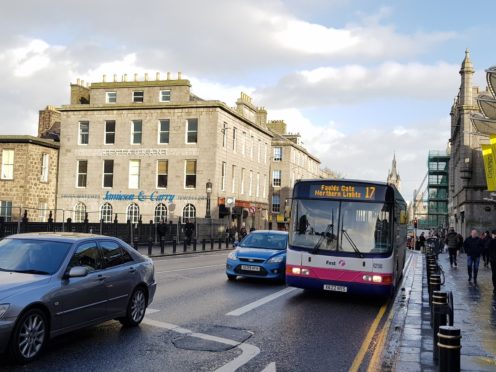 Plans for a controversial, London-style Low Emission Zone in the heart of Aberdeen could move forward.
Councillors on the city growth committee will hear a report on how identifying such an area is progressing.
Aberdeen is one of a number of Scottish cities which is considering the introduction of the zones, which can either ban certain vehicles or charge them for entry into designated areas.
Environmental group Friends of the Earth revealed last year that several city throughfares, including Wellington Road and King Street, are among the most polluted in the whole of Scotland.
The Scottish Government has set a target of 2020 for the introduction of the zones.
Papers presented to councillors said that new traffic data had been gathered earlier this year – replacing previous studies from 2012.
They read: "Initial engagement has commenced with stakeholders, including transport providers and the local business community, who are potentially most likely be affected by an LEZ.
"Further and more detailed engagement is envisaged to take place in earl 2020 as options become more defined and ready for discussion.
"Members will continue to be kept up to date as LEZ proposals develop via future committee reports or service updates as appropriate."