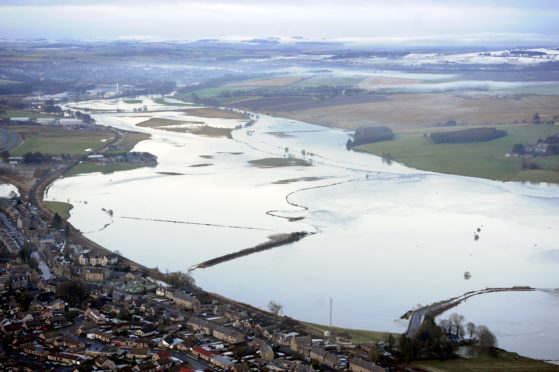 A controversial flood scheme has been approved for Ballater – despite a roads boss admitting all the options on the table were "terrible".
Aberdeenshire Council's infrastructure services committee yesterday backed five multi-million-pound flood protection schemes for communities across the region, which will now be submitted to the Scottish Government in the hope of securing funding.
The proposals have been designed to protect Ellon, Insch, Inverurie and Port Elphinstone, Stonehaven and Ballater.
Fears building £31million flood protection scheme over fairways of Ballater Golf Course could cost tourism income
The latter two have proved most controversial, with concerns raised that the Stonehaven Bay Coastal Scheme, which includes building flood walls along the seafront, would harm the amenity of the seaside community, while plans to build a wall through the middle of Ballater golf course and caravan park have prompted fears over tourism.
At the meeting, roads and landscaping boss Philip McKay admitted all options for Ballater were "terrible" regarding their impact on amenity.
He said none of the choices were "particularly palatable", said they would "significantly change the character of the village".
However, all five options – which when combined have an estimated price tag of £74.5 million – were approved, meaning they will be submitted to the Scottish Environment Protection Agency.
The deadline for funding from Sepa is at the end of the year.
The approval came with the stipulation that all defences at sea would be "maximised in order to ensure that the sea wall height is optimised at the lowest achievable level, such that the promenade need not be raised."
Afterwards Jim Hunter, the president of the Ballater Golf Club, said the proposals cast doubt on the future of the club.
He said: "It's really disappointing.
"Any construction won't happen for maybe as long as seven years, but if people are needing to renew their membership and find out that a great big wall will be built through the courses, they might not want to do that."
Peter Argyle, the chairman of the infrastructure committee, said: "The absolute priority is protection of life and the protection of property.
"The only scheme that's available for Ballater is this one, and I accept it's not popular.
"It has to go through the prioritisation process with Sepa, with no guarantee of success and it may well not happen, but we need to make sure that Ballater is as far in the foremost of Sepa and the Scottish Government's thinking as much as possible."