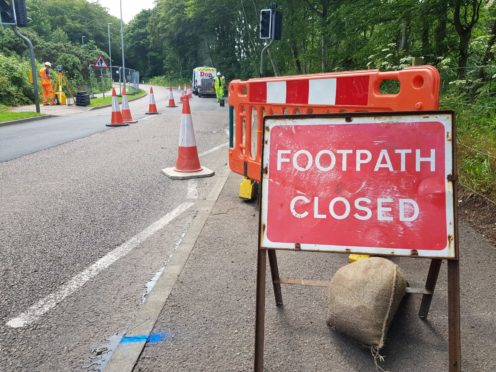 Council chiefs have said restrictions will remain in place as engineers seek a long-term solution for a damaged Stonehaven road.
Homes in the town's Carron Gardens were evacuated in July over fears of "road subsidence", apparently related to work being undertaken to protect the town from flooding.
Cracks had appeared in the northbound carriageway surface and contractors behind the Stonehaven Flood Protection Scheme were directed to determine the extent of the damage.
Repairs were expected to take 21 days and a diversion put in place.
As a result, Dunnottar Avenue, which which runs alongside Carron Gardens, was shut until August.
The closure left motorists facing a six-mile detour while an investigation was carried out into the cause of the damage.
Five months on from the initial closures, however, a long-term solution has yet to be found for the sunken road and restrictions remain in place.
And it is unclear exactly when those restrictions will be removed.
Aberdeenshire Council confirmed yesterday that the A957, from Invercarron Cottage to Green Den, remains under traffic signal control with a single-lane restriction in place.
It will remain this way until the authority "identifies a permanent solution" and, until one is found, the road cannot be safely opened to two-way traffic.
A spokesman for the council added: "We apologise for any inconvenience caused and thank the public for their continued support during this time."