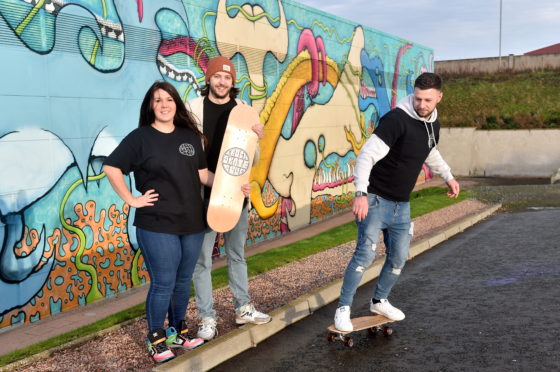 Dilapidated north-east sports facilities may soon be a thing of the past with significant being made on two new skate parks.
Both the Broch Skate Club and BlueSkate Peterhead aim to provide their communities with exciting and fresh facilities for all wheeled sports.
Yesterday the Fraserburgh group accepted a £5,000 donation from the BrewDog Foundation, pushing their fundraising total up to £22,000.
While their ideal finished park in the town will cost an estimated£250,000, their initial funding goal has now been smashed, enabling them to access even more funding.
Chairwoman Anneka Niro has been delighted with the progress made in a single year.
She said: "We definitely didn't expect to hit our target this year.
"We thought two years was realistic but we've had such strong support and great donations that have pushed us past the £20,000 mark.
"Now we can get our feasibility study done and we can use the money to unlock additional lump sums.
"The way things are going we hope we may even be able to begin making changes to the park next year and the project could be completed by 2021."
Keen rollerblader Nathan Morrison is a member of the club's committee and said: "We're very grateful to BrewDog for getting involved."
The company's UK sales coordinator Jonny Kennedy said it was a "unanimous vote of the staff" to donate from the foundation to the Broch Skate Club.
He said: "BrewDog was founded in Fraserburgh and a lot of the team are from there.
"20% of our profits are shared with staff and charity through the BrewDog Foundation and they get to decide where the money goes.
"Everyone liked what this group are trying to do."
BlueSkate Peterhead, meanwhile, have been chosen to benefit from the Co-Op Local Community Fund.
All Co-Op members earn rewards for local causes and can choose to support the skate park development online.
So far BlueSkate have been raising awareness of their project and have undertaken a consultation to see what people want.
The group's Tev Warrander said: "We have been successful in a number of small funding bids, giving our fundraising campaign a great start.
"We aim to raise £12,000 to enable us to complete a feasibility study that will help us open up bigger funding streams.
"The current skatepark still attracts high numbers of visitors and we feel that if we can get a purpose-built park in the Peterhead area we will be able to give everyone a better place to learn and teach each other."
BlueSkate will be at the Peterhead Fire Station Christmas Fair on Sunday.