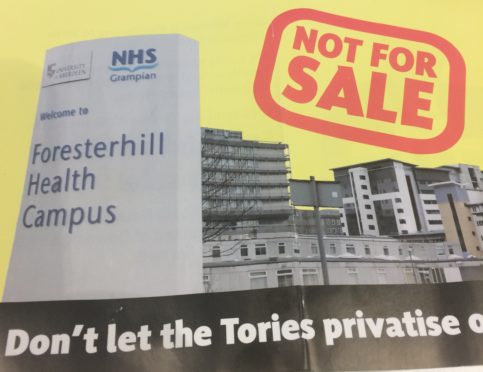 A row has erupted after an SNP leaflet in Aberdeen used the official NHS Grampian logo next to the words "not for sale".
The leaflet, which was received by voters across Aberdeen, carried an image of the city's Foresterhill Health Campus, and the Conservatives have referred the matter to the Electoral Commission and now plan to lodge a complaint with the health body.
Andrew Bowie, the Tory candidate for West Aberdeenshire and Kincardine, said: "I am deeply disappointed the NHS brand and good name of Aberdeen Royal Infirmary have been used like this.
"Using the identities of public bodies on campaign leaflets during a general election is a new low even for the SNP. It is complete nonsense and it is fear-mongering.
"Beyond that, it is against the rules. We have been in touch with the Electoral Commission and they have asked us to lodge a complaint with the NHS."
A spokesman for NHS Grampian said: "No complaint of this nature has been received."​
Fergus Mutch, the SNP's candidate in West Aberdeenshire and Kincardineshire, said voters should be told about the "real danger" faced by the health service.
He added: "The Tories are clearly rattled, but no matter how much Andrew Bowie spits the dummy out, voters across the north east know that Boris Johnson is a very real and present danger to our NHS.
"Andrew Bowie wants to hand over control of our NHS to Boris Johnson and Donald Trump – the two most dishonest men in world politics.
"Voters won't have the wool pulled over their eyes though. Under the SNP, the NHS will always remain firmly in public hands."
Meanwhile, police are investigating after five campaign signs for Tory candidate David Duguid were damaged or removed in the Banff and Buchan constituency.
One sign had two expletives and a message to "vote SNP" scrawled on it, while two were knocked down and two more were taken down and removed.
Conrad Ritchie, chairman of the party branch, said: "It is sickening to see so many of these signs vandalised or damaged."