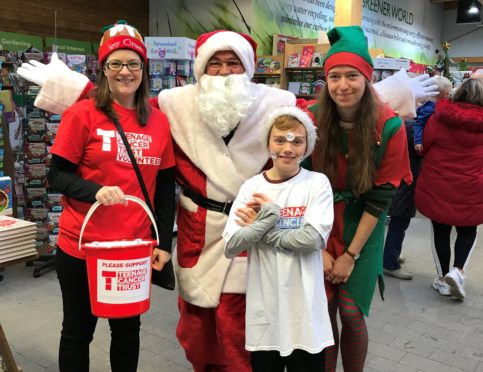 A nurse who looks after teenagers with cancer has staged a fundraiser to help support the charity which pays for her role.
Amanda Copland, with help from her nine-year-old son Oscar, spent a recent Sunday at the Dobbies garden centre in Aberdeen collecting cash for the Teenage Cancer Trust.
The event involved a Santa parade and performances from a local dance group and pipe band.
The pair were able to help out with bucket shaking, and funds were also raised through sales of candy floss and popcorn.
Ms Copland, who has worked as a Teenage Cancer Trust nurse at Aberdeen Royal Infirmary for the past two years, said: "This was the first time we had volunteered and Oscar was a little nervous at first, but it was a really lovely experience for both of us.
"It was great to show my son how you go about raising money for a charity, and to give him a really positive experience of fundraising."
Ms Copland's job involves providing specialist nursing care and support for 16-24 year olds during cancer, and after treatment.
She recently completed a post graduate certificate in teenage and young adult cancer care.
Christine Jason, the charity's head of regional fundraising in the north, said: "Christmas can be a really tough time for young people going through cancer treatment, but Teenage Cancer Trust's nurses and youth support coordinators do everything they can to keep Christmas special."