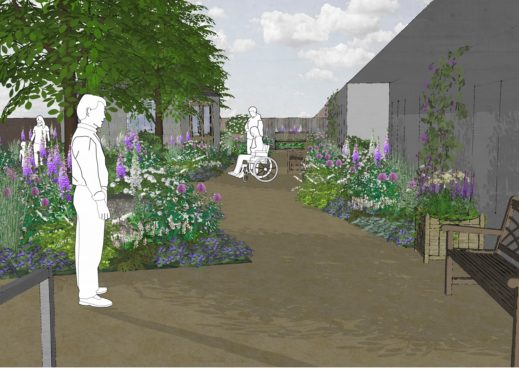 Artist impressions showing a planned therapy garden at an Aberdeen hospital have been unveiled.
Friends of the Neuro Ward (FOTNW) is currently fundraising to overhaul a rundown green space in the grounds of Woodend Hospital, to help patients "feeling trapped" in the ward.
The charity has enlisted the help of award-winning landscape designer James Alexander-Sinclair to renovate the garden, which is in view of the neurological rehabilitation ward.
FOTNW founder Caroline Kritchlow contacted the Royal Horticultural Society judge after seeing the Horatio's Gardens created for NHS patients with spinal injuries in Glasgow.
She described Mr Alexander-Sinclair as the "king of the Chelsea flower show" and said it was "amazing" to be working him.
Patients can remain in the Woodend ward for up to 18 months.
Some have suffered major trauma injuries while others have serious neurological diseases or brain tumours.
The garden would be open to patients, their families and the staff on the ward.
Images released by the charity today show a number of intertwining paths through the garden, which will be wide enough to allow access for bed-bound patients and those in wheelchairs.
They also hope to erect a tea turret – a wooden structure towards the end of the garden which would offer a space for art therapy, which is something the charity already provides for patients.
Skylights in the roof would also allow the use of the building for stargazing in the evening.
It is also hoped the budget could be stretched enough to allow them to install a planetarium system on the roof of the hut.
Currently FOTNW has around half of the £200,000 needed to bring the plans to fruition, and is appealing for people across the north-east to back the campaign.
Plans are still to be finalised with NHS Grampian before the official application is made.
Mrs Kritchlow said her husband Kevin has "found confidence in himself", after a gruelling 22-hour operation to remove a brain tumour, by spending time in their garden at their home in Houton in Orkney.
The charity's president said it had been "incredibly important" in his recovery.
She added: "When I first went round Woodend I asked patients how the charity could contribute to making their lives better.
"Several said they just felt so trapped within those four walls.
"Then I went out and saw that run down garden and I could just see the potential to get these people outside and expand their horizons so they wouldn't feel that way."