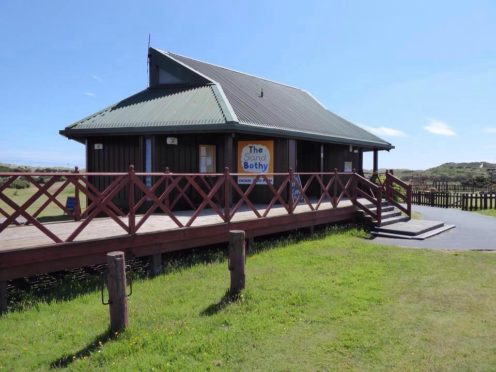 A forgotten and neglected ranger's hut which lay empty for a decade is now attracting thousands of visitors a year to one of the north-east's most picturesque seaside spots.
The Balmedie Beach Visitor Centre was built in the 1980s for the local council's beach rangers.
Back then, there were four rangers, whereas now there is no permanent ranger and from 2004 to 2014, the building was closed and left to the elements, as well as vandals.
In 2014, Belhelvie Community Trust acquired the building from Aberdeenshire Council as a community asset transfer.
By 2016, it was open to the public, under the name of The Sand Bothy, with a kiosk for hot drinks and ice cream and a range of events for the community during the summer season.
Run entirely by volunteers, The Sand Bothy received a three-star award from Visit Scotland just a year after opening its doors.
The amenities include an adventure playpark for children, which was newly renovated last month in line with the Sand Bothy's ethos of continuous improvement.
Founder Rosie Nicol explained: "The building was a mess, because it had been burnt and damaged by vandals.
"It was black inside, with a big hole in the floor, though luckily the roof and walls had survived.
"We raised money for repairs, insurance, fuel costs and all the rest. It was a lot of work, but on July 1, 2016 we opened our doors.
"Both Balmedie beach and the country park lacked amenities. There was the natural habitat obviously, but nowhere to get a cup of tea or an ice cream.
"But now, there are three things we offer: the kiosk, then there's the space for classes and groups and meetings, and finally a permanent exhibition, which has photographs and information about the country park of which I'm particularly proud.
"And then there are the summer events, which are always popular.
"We've had visitors of all nationalities – we should maybe start keeping a visitor book.
"A lot of students come from Aberdeen as well. It's just great seeing a building used that was lying empty for so long."
However, Ms Nicol recognises that the increased demand requires an injection of fresh blood. So she is looking for more volunteers as 2020 looms into view.
She added: "The one complaint we get is that we're not open enough.
"And we would also like to do more with schools and youth groups."
"The Sand Bothy is open on Saturdays and Sundays from March to October, though it is available year-round as a meeting space."
If you can help, further information is available at www.thesandbothy.co.uk