VIDEO: Retiring LNER Inter-City fleet rolls into Aberdeen for one last time
By
Gregor Aiken
December 19, 2019, 10:30 am
Updated: December 19, 2019, 10:37 am
Rail enthusiasts lined the platforms at Aberdeen and Inverness yesterday as a veteran diesel locomotive made its final journey north.
The London North Eastern Railway (LNER) Inter-City 125 trains have been painted in the original yellow and blue British Rail livery to mark the retirement of the entire fleet after more than four decades of service.
Fans held their phones aloft at the Aberdeen station to capture photographs of the 43206 and 43312 power cars as they chugged through the north-east and into the Highlands on the farewell tour.
John Doughty, engineering director at LNER, said: "This is the first of our four-day network tour celebrating the Inter-City 125, which has been a fantastic servant for this route over the last 41 years.
"It brought huge change to travel across the country, it sped up departure times and increased passenger comfort.
"There is a bit of sadness around as we say goodbye to the fleet."
Paul Gill, who drove the engine from Edinburgh to Aberdeen on the first leg of the journey, said he was honoured to operate such a machine.
He added: "It's a great piece of kit and it will be sad to see it go.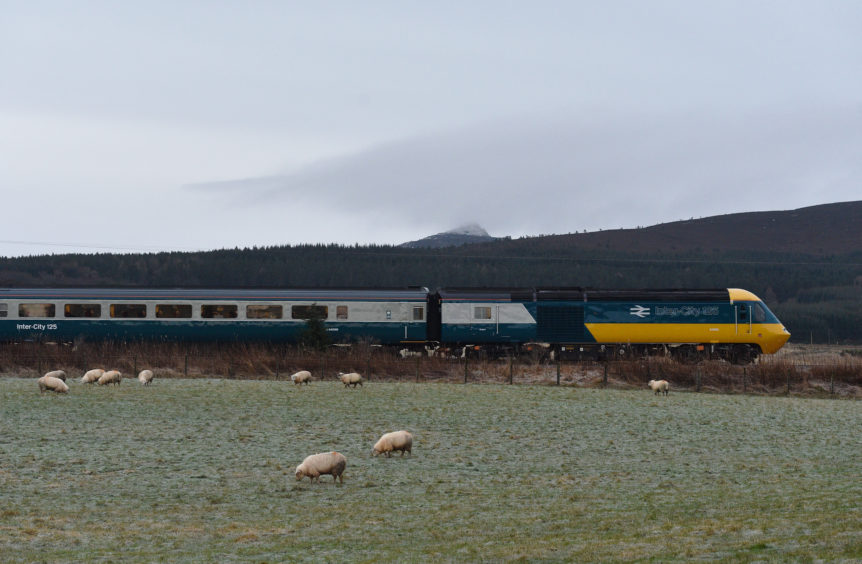 "It has been a major part of my train driving career and it is incredible to be part of this historical occasion.
"I'm very proud of it and I even signed my first autograph."
The special service travelled along the east coast calling at Dundee, Arbroath and Aberdeen before heading to Inverness.
Today the locomotive travels south on the scenic Highland Main Line crossing the Culloden Viaduct and arriving back in Edinburgh before departing for Leeds on Friday.
On its final journey with LNER, the train departs Leeds pausing at most of the major stations along the way before the era of the LNER Inter-City 125 finally comes to an end at London King's Cross.
Money raised from ticket sales will go towards charity Campaign Against Living Miserably which works to prevent male suicide.
The Inter-City 125 first entered service on the East Coast Main Line in 1978, but officially retired from regular timetable service on Sunday.
It is being replaced by the new Azuma fleet, the design of which was inspired by the famous high-speed "bullet" models used in Japan.
An Azuma model made its first journey from Aberdeen at the end of November and travelled from Inverness for the first time last week.