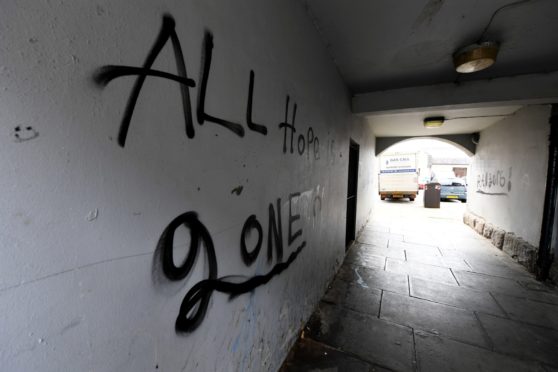 Residents should be "furious" that councils are being forced to spend tens of thousands of pounds cleaning up racist and xenophobic graffiti, a pressure group has said.
Figures obtained by The Press and Journal have revealed the huge sums local authorities in the north and north-east are having to fork out as they tidy up after vandals.
Over the last three years, the clean-up bill for graffiti in Aberdeen, Aberdeenshire, Moray and Orkney has reached more than £80,000.
Anger as vulgar and distasteful graffiti painted across Turriff park building
Hundreds of incidents have been recorded by public workers over this period and they have had to cover up or remove all manner of "obscene" language and offensive remarks.
These have also included anti-Semitic symbols, "crude depictions" of body parts and homophobic slurs.
John O'Connell, the chief executive of the TaxPayers' Alliance pressure group, said vandals are not only responsible for the damage, but also for causing vital public funds to be diverted from other areas.
"Residents will be furious that they have to foot huge bills to clean up after these vandals," he said.
"The local environment for taxpayers means tidy streets and bin collections, and their hard-earned rates could be doing more good than cleaning up mindless graffiti.
"Sanctions for those caught should be punitive enough to deter them from repeating their actions in the future, saving taxpayers from further clean-up costs."
Of the councils which responded to the P&J's request for information, Aberdeen City Council accounted for approximately £72,000 of the £80,000 total.
Aberdeenshire spent more than £4,300 between April 2017 and October 2019, while graffiti clean-ups cost Orkney £1,100 during the same period.
Moray Council calculated its figures using calendar years, rather than financial, and reported it has spent close to £2,400 since January 2016.
An Aberdeenshire Council spokesman said: "It is very disappointing that communities continue to suffer from such anti-social behaviour which costs the taxpayer money and tarnishes the image of our villages and towns.
"Our services continue to work together to try to address these issues and would ask members of the community to be vigilant and report any such anti-social activity to the police."
While Aberdeen City Council reported a much larger spend for tackling graffiti, it stressed the figures cannot be fairly compared between local authority areas.
The figures show it budgeted approximately £25,000 for the treatment of such damage in each of the last three years.
A spokesman said: "Aberdeen, being a city, clearly has much larger built-up areas than the other authorities, which are predominantly rural.
"Urban areas present completely different problems for officers to deal with and more opportunities for people who are determined to deface walls.
"Our officers are very proactive and actually seek out graffiti to be removed before it is even reported.
"The figure given for Aberdeen is the actual budget allocated to the graffiti removal team and also includes the costs of giving areas a thorough clean once graffiti has been removed."
While the financial aspect to cleaning up graffiti can take its toll on communities, it can affect groups in many other ways.
In June, vandals spray-painted IRA slogans, drug promotions and swastikas on a building at the Haughs, just weeks before the Turriff Show.
The graffiti was branded "concerning" and "disgusting", while MP David Duguid said: "I was sickened to see that place debased by such vulgar and distasteful graffiti."
And in October, police were called to the Myrus Sports Complex in Macduff after a stick man and smiley face were painted across the £3.5 million centre.
Chairman of a local community safety group, Richard Menard, said:  "The centre is one of the jewels in the Macduff crown and to see it defaced is dreadful.
"To be honest, it totally baffles me why someone would do that, but it is probably out of stupidity and ignorance."
Some documents relating to graffiti clean-up seen by The P&J also included descriptions of each incident.
Workers in Aberdeen were called to cover up items including "gang" graffiti and "Islamic murals," while vandals in Aberdeenshire daubed "obscene writing," "crude depictions of male genitals" and "a picture of a dog" on buildings there.