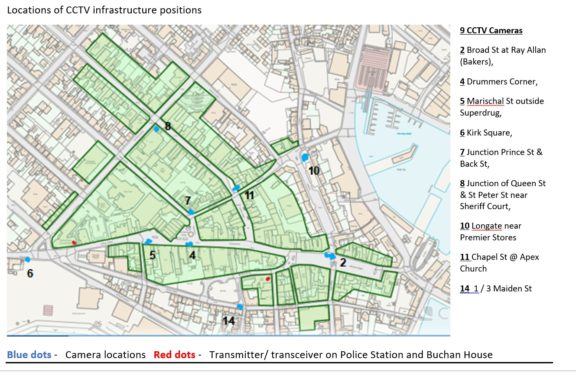 Work on a pioneering Peterhead town centre CCTV system will begin next month.
In 2018, more than 800 local people signed a petition requesting the installation of cameras to protect their streets.
Since then, Rediscover Peterhead has been working to secure £97,000 funding to make the idea a reality.
Now, after getting a £79,000 grant from the Aberdeenshire Council's Town Centre Fund, work will begin on the scheme in the new year.
It is expected the project will be completed early in 2020.
Nine cameras will be strategically located around the centre covering its main areas.
Stagecoach has also confirmed it will be linking its newly upgraded system to the town centre project and other businesses are being encouraged to consider joining.
Leslie Forsyth, manager of Rediscover Peterhead, said: "If anyone has been considering the need for CCTV for their business, now would be a good time to invest as they can take advantage of preferential rates to have a CCTV camera installed or upgraded."
One of Rediscover Peterhead's plans is to improve safety and security in the town and Mr Forsyth has been delighted with how their work will soon pay off.
He said: "Town Centre businesses have been very positive about the introduction of CCTV. It can only help to make people feel safer as they move around the town centre.
"I would like to thank organisations such as Police Scotland, the Buchan Safety Group, Peterhead Community Council and the many businesses who have given their support to this project.
"It represents a total investment of £97,000 which has been delivered within its original budget and on time."