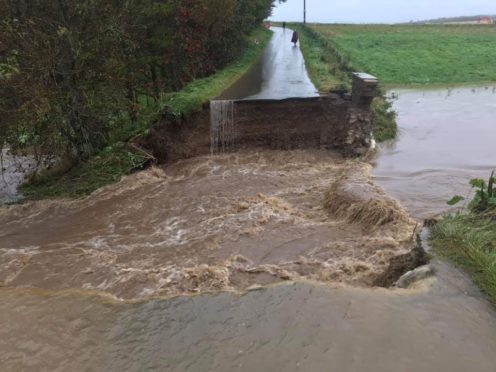 A group of Buchan residents will meet tomorrow to discuss the best way to strengthen their calls for action to repair storm-damaged bridges.
Torrential rain battered bridges around the region in September, with the King Edward area badly affected.
The total cost of repairing the six bridges in the area is £1.26million and Aberdeenshire Council has previously said there is no funding within the budget to do so.
However, work has been done to repair the crossings at Fortrie, Bruntyards and North Litterty.
The local community is keen for more to be done though, amid fears they will be cut off from the emergency services.
Tomorrow, a public meeting will be held at the King Edward Community Hall to collect evidence on the full social, financial and safety impacts of the bridge closures.
The information will then be presented to members of Aberdeenshire Council's infrastructure services committee on January 23.
Euan Macintosh, who owners Murdoch Plumbing and Heating, said his business has been affected and that he will be attending the meeting.
He said: "All the neighbours in King Edward have been speaking to other neighbours about this situation but we need to be doing more.
"What we really need to do is come together as a community to do something about getting these bridges fixed."
Fellow resident Samantha Philip added: "This isn't just a problem that's affected people living in King Edward, it's had an impact on local businesses in the surrounding area too. People in Turriff, Crudie, Cuminestown and Macduff have all been affected."
Banff and Buchan MP David Duguid confirmed he will also be attending the meeting.
He said: "I have been in communication with affected constituents, the local community council and of course Troup councillor Mark Findlater to keep abreast of the situation since late September.
"On the day of the flooding, I was attempting, like many other people, to get from Banff to Turriff.
"I was turned back at Macduff. I had never seen rain like it – the main road was like a river in some places.
"I hope that a solution can be found to get the remaining bridges repaired and back in action at the earliest opportunity. There is no doubt it will be challenging for the council given the financial constraints from years of cuts from the SNP government at Holyrood, and it may well be that extra funding is required."
Last month, the Banff and Buchan area committee rejected council officers' recommendations not to repair the damaged bridges while talks are ongoing with the government and other funding options are being explored.
The meeting will be held in the community hall at 7pm.