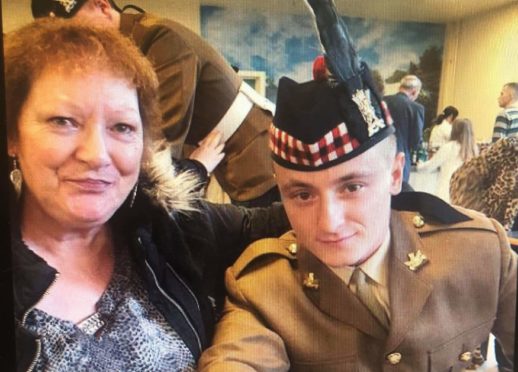 A taxi driver who died nearly a week after being knocked down in Aberdeen has been described as a devoted "good-natured" mum.
Joan Kane died on Sunday, nearly a week after she was hit by a car on Lang Stracht, near Lidl.
The 69-year-old's son, Stewart, last night paid tribute to her "good character" and "comedian-like" nature.
The mother-of-two was a founding member of Heatherdale Ladies Pipe Band, and a former pipe major.
Mr Kane, 31, said: "I couldn't fault my mum about anything, because to me, my mum was my world.
"I still feel like she's going to keep phoning every two seconds. She was always like that with me, always phoning to make sure I was all right or to wind me up."
Mrs Kane, who was also mum to Murray and a grandmother-of-four, worked as a taxi driver for nearly 30 years.
She grew up in Banchory before moving to Aberdeen when she was 34.
She was brought up with pipes and drums and "loved everything to do with them", her son said.
Mr Kane said his mum always kept people entertained and loved a "wee wind up", although admitted she could also be a "stubborn".
"It still seems so unreal," he added. "She's going to be truly missed and she was truly loved, especially by her friends and for playing the pipes as well.
"It's more tragic than anything because of the time of year, it was pretty much the day before Christmas that she got ran over."
Mr Kane, who is in the armed forces, had planned to visit Aberdeen for new year after spending time with his girlfriend in Warrington.
But after hearing about the crash, which happened at about 4.15pm on December 23, he raced to be by his mother's bedside.
Mrs Kane was taken to hospital with serious injuries, and although she managed to speak to her sons, her condition deteriorated and she died on Sunday.
"My brother and I were going to to hospital to see my mum every day just to speak to her.
"I think when it has sunk in that's gone, it will get to me more then."
Mr Kane praised the "absolutely amazing" hospital staff for their care, and thanked the police for their support.
He also said his thoughts were with the driver of the car involved.
He added: "It was just a complete and utter accident and the family's thoughts are with the driver."