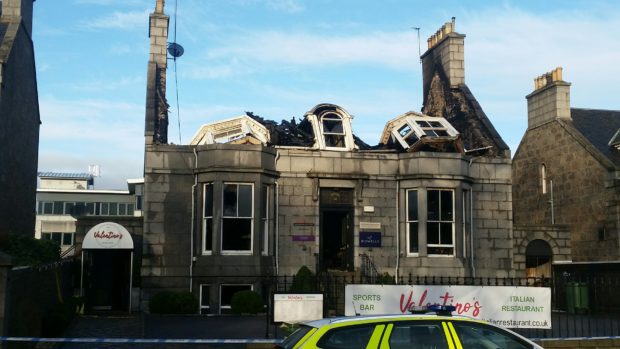 A law firm will today resume business in a new premises after a major fire tore through its former home in the west end of Aberdeen.
Quantum Claims was was among several businesses affected when a blaze destroyed Valentino's Italian restaurant, formerly Dizzy's, two days before Christmas.
More than a week later, it is understood that investigations into the matter have concluded – with former occupants expected to learn the cause within weeks.
The accident and injury legal firm, which owned the building and leased space to the other companies who used it, suffered devastating losses in the incident.
But Quantum Claims chairman, Frank Lefevre, yesterday revealed that the firm was getting back on its feet – and would today start operating from a new building roughly 100 yards away on Carden Place.
Mr Lefevre said: "Presumably we did lose quite a lot after the fire last month, but we haven't been able to have a look yet. It simply hasn't been safe.
"I have no idea what could have caused it, the investigation has been concluded but it is likely to be the middle of the month before we hear anything about it."
More than 40 firefighters tackled the blaze at 70 Carden Place at 2.11am on Monday, December 23.
It wasn't until shortly after 9pm that day that the fire was declared fully extinguished.
Queen's Cross councillor Jennifer Stewart last night said the community was still coming to terms with the "travesty".
She added: "It's a terrible thing to have happened at any time of year never mind it being so close to Christmas.
"The businesses that have been affected are such an integral part of the community.
"It was horrendous to see such a lovely building so badly damaged.
"It was just sheer devastation, the windows had collapsed and it almost looked like icing on a cake.
"It'll likely take a significant amount of work to return it to its former beauty but I'm glad to see the businesses are able continue – and that nobody was reported to be injured.
"Incidents like this can have such a negative impact on businesses."
The blaze prompted a joint investigation by the police and fire service.
Staff at Valentino's had been enjoying their Christmas party on Sunday night just hours before the building went up in flames.