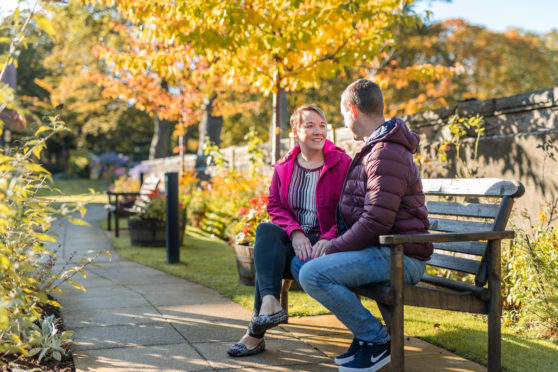 An Aberdeenshire woman battling a brain tumour has hailed the charity which is supporting her and her family.
Newtonhill mum Suzanne Davies was first diagnosed with cancer in 2014 and along with her husband Owen and children Max and Lauren, has been supported ever since by Clan Cancer Support.
The 41-year-old is now backing the charity's big 2020 fundraiser, Light the North.
The public art trail will feature 30 lighthouse sculptures across Grampian, Orkney and Shetland. The 3ft sculptures, which will light up, will later be auctioned off afterwards to raise cash for the cancer charity.
Mrs Davies is urging people to get behind the trail when it launches later this year and described Clan as a "saviour", particularly when doctors told her she had just a year to live.
She said: "When we were first given the heartbreaking news and the scary timescale, my husband and I were in tears and we didn't know what to do.
"When we remembered what Clan does, not only for people with cancer but to their families, we immediately visited them.
"Our children were too young to fully understand the impact of our news, but Clan's children and families team helped them to understand in a way appropriate to their age and stage of development, they visited them at school and supported them in an environment they knew and felt comfortable with.
"Clan was our saviour on that first terrifying day and continues to be our crutch."
Five years on, Mrs Davies celebrated her 40th birthday by raising more than £8,000 for Clan.
Iona Mitchell, the charity's head of cancer support services, said: "Cancer can have a devastating effect on the family as a whole, and it can be difficult for people of all ages to talk about what is happening and how they are feeling.
"Our professional and expert children and families team are skilled to help young people come to terms with what is happening and feel included.
"By working with the family as a whole this encourages a sense of cohesion and coming together to share feelings, worries and fears during an unpredictable and difficult time."
Clan has teamed up with Wild in Art, the organisation behind the Wild Dolphins trail and Oor Wullie's Big Bucket Trail, for the project.
Professional and amateur artists have been urged to submit designs for the lighthouses, each of which is sponsored.
Sponsors will choose their favourite designs at a live event in April.