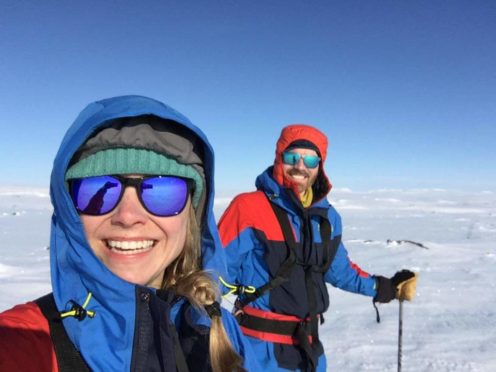 A north-east man who became the first Scot to trek solo and unsupported to the South Pole believes major progress could be made to tackle climate change this year.
Luke Robertson made history in 2016 when he completed the gruelling expedition despite having been fitted with an artificial pacemaker and undergoing extensive brain surgery.
As he prepares to return to his former school in Aberdeenshire to deliver a talk alongside Hazel Robertson, his wife and fellow explorer, he has spoken of his fears, but also his optimism, for the future of the Antarctic.
Mr Robertson says he has witnessed enough worrying signs of the polar ice disappearing to argue for changes in people's response to global warming.
But he reckons that this year could mark a turning point in global efforts to combat the problem, and he believes exploration has a "key role" in inspiring such change.
The explorer said: "There is no contradicting the science and we have both seen first-hand the effects of a rapidly changing climate.
"In the Arctic, this is happening quicker than anywhere else in the world and the Greenland ice pack, for instance, is now melting seven times faster than it was in the 1990s.
"One of the consequences of this is a rise in sea levels, which can also increase the risk of storm surges in coastal areas.
"We saw examples of this on our expedition in Alaska, with tundra being engulfed by the sea, sometimes at a rate of 200ft a year.
"In Alaska, there are coastal villages literally falling into the sea, with communities having to be relocated at a cost of hundreds of millions of dollars. But storm surges can affect us here in Scotland, too."
He added: "It's very easy to get bogged down with negative news. Sometimes, it feels paralysing and it's like it is too big a problem to solve and nothing can be done.
"But it's very important to remain positive. There are so many solutions available – we just need to be deploying them faster.
"That is why 2020 is such a pivotal year, culminating in the UN international climate conference which is being held in Glasgow in November.
"Exploration has a key role in exciting people around the world and we both believe that it's our responsibility to raise awareness of important topics and, hopefully, inspire people to take positive action."
Hazel Robertson is passionate about the positive role that exploration can play and has established a new "wild women" initiative, which is designed to push females out of their comfort zone and connect them with nature.
The Stonehaven duo were both educated at Mackie Academy and now, as explorers-in-residence for the Royal Scottish Geographical Society and Arctic guides for the Polar Academy – a charity which transforms young people's lives through exploration – they are returning to the school on Wednesday, February 5, to chronicle their journeys.
They will discuss adventures such as the time they skied solo to the South Pole, travelled the length of Alaska by kayak and bike, and ventured from mountainous Greenland to the changing world of Arctic Norway.
Mrs Robertson is determined to encourage a  greater number of women to embrace challenges in the wild.
She said: "As part of Everyday Exploring, the company Luke and I co-founded, I am launching the 'wild women' series in May to empower women to get outdoors and connect with the natural world.
"These will range from an introduction to trail running or wild camping to more advanced multi-day hiking and camping expeditions – which are all designed to be a lot of fun as well."