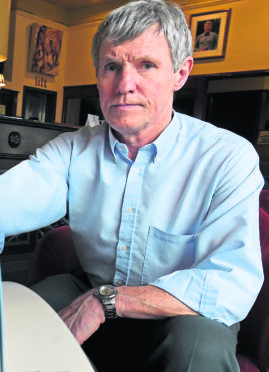 An international search is underway for a Scottish tycoon whose  yacht has been found washed-up on a reef in the Red Sea.
Colin Finnie, who once owned the Northern Hotel in Aberdeen, was undertaking a solo sail from Australia when he disappeared.
The 67-year-old businessman, originally from Helensburgh in Argyll, had been aiming for Port Ghalib in Egypt.
He was around 300 nautical miles away when he last contacted his wife on December 7, but was apparently running short on fuel and in heavy seas.
His boat, the sailing vessel Simba, was "pinged" at Christmas Island in the Indian Ocean before it was found washed-up on a reef, near Marsa Alam, Egypt, on December 13.
Mr Finnie's wife, Rosie Kinkead, has since made an emotional appeal for information on his whereabouts.
In the Port Ghalib Community group on Facebook, she asked for more information as to why he was not found on board the vessel when it was discovered.
She wrote: "My husband, Colin Finnie, was heading towards Port Ghalib in sailing boat Simba, a Nauticat 44.
"I lost contact with him last Saturday 7th when he was 300 miles away from his destination. He was in storms and low on fuel.
"I have been in contact with the Foreign Office and Coastguard and the Egyptian authorities are actively looking for him.
"I know it's a long shot, but I am trying everything."
The Scottish Sun reported yesterday that Mr Finnie was planning to be back in Scotland for Christmas having begun travelling from Australia in September.
Mr Finnie owned the 32-bed Northern Hotel for some time and campaigned against rising business rates he said were damaging businesses.
The hotel was placed on the market in 2017 with a £1.5 million price tag. It is currently owned by the Oyo chain.
The website Boat Watch has been appealing for information to help Mr Finnie's family.
It initially reported that Mr Finnie's yacht was "overdue on a passage to Port Ghalib" and that the last known contact was on Saturday December 7, when he was about 300 nautical miles from his destination.
The site subsequently reported that the SV Simba had been found on a reef in the Red Sea and that Coastguard efforts were underway to find the captain, who had not been discovered with the vessel.
An update on Tuesday said: "Out of respect, and at the specific request of the family, Boatwatch.org has not been providing additional information on the website.
"If anyone has pertinent information, or may be able to help or assist the family in any way, please contact Boat Watch at Eddie@Boatwatch.org and we will forward the information to the family.
"Thanks to all who have contributed."
The Foreign Office said: "We are supporting the family of a British man reported missing while sailing in the Red Sea and are in contact with Egyptian authorities."