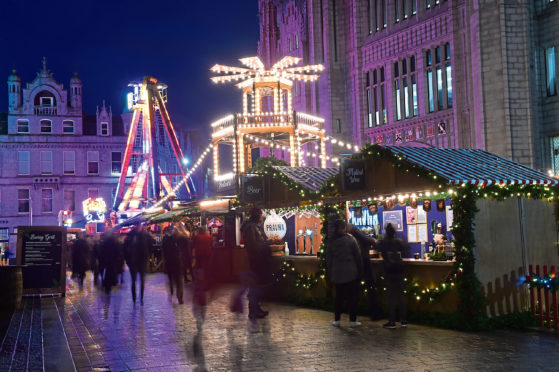 No formal head count was taken of visitors to Aberdeen's Christmas Village last year – and it ended up saving the authority £10,000.
Aberdeen Inspired, one of the organisations involved in bringing the festive celebration to the Granite City's Broad Street for the holiday season, drew criticism last year after claiming 631,000 people visited between November 22 and December 31 in 2018.
Concerns were raised that the figures did not accurately represent visitors to the Christmas Village itself, given that passers-by on the way to work, court, council offices or Marischal Square could also have been counted.
Adrian Watson, the chief executive of the business improvement district organisation Aberdeen Inspired, said he decided against measuring footfall for 2019 in order to save £10,000 on a contractor to carry out the work.
Instead, Mr Watson said Aberdeen Inspired has carried out extensive formal discussions with contractors, independent sellers and other businesses around Broad Street to find out if the festival was beneficial for their income.
Although he said many of the business owners spoken to have reported a positive increase in footfall during the period when the village was in place, the precise figures are commercially sensitive.
Mr Watson said: "We spent what some would say is an inordinate amount of money to triangulate the figures in 2018, which was important because it's a public event and there's a responsibility to make sure it works.
"It caused so much contention last year.
"I heard so much noise from so many different quarters on those figures, so I decided that it wasn't as important.
"What is important is that we've instead gone to our contractors, our local businesses in the market stalls, and other businesses around the area to find out what they thought and generally most have been pleased.
"And, for me, this means a lot more than those visits of people just walking through, or going to the council building – if businesses are telling me they're seeing positive results, that gives me comfort we're moving in the right direction."
The event brought an increase from 15 to 24 stalls in the Quad market, with even more independent local producers showcasing their goods.
Other additions included a new mini golf course and silent discos.
Craig Stevenson, manager of the Bon Accord centre, added: "Retail at the moment is really challenging, and we need to do what we can to give people a reason to get into the city, and the village definitely does that."