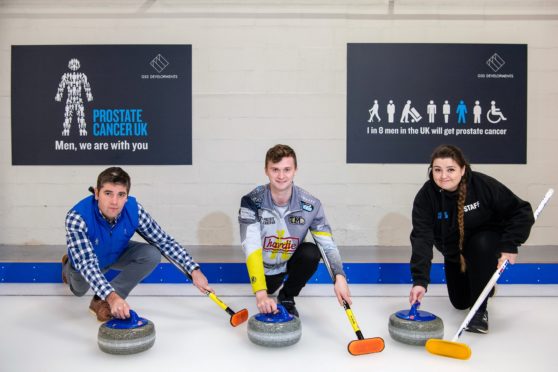 An Aberdeen company has teamed up with a European curling champion to raise awareness of prostate cancer.
Prostate cancer is the most common form of the disease diagnosed in Scotland, with one in eight at risk.
Now development company GSS are pushing for men to get checked out – and not put vital health conversations on ice.
The firm has teamed up with former European curling champions Team Mouat, led by skip Bruce Mouat, for the campaign. They have donated cash to Prostate Cancer UK and organised for the charity's logo to go on the curling team's tops.
It is estimated there are more 10,000 active curlers in Scotland, and with a significant number being men over 50, it is hoped the move will get the message out.
It is a cause close to GSS founder George Stevenson's heart, after he was diagnosed with prostate cancer 13 years ago.
He had no symptoms but a medical check revealed his condition and he underwent radical surgery and has been cancer-free since.
The 74-year-old played an instrumental part in rallying businesses together to help fund the Ucan Centre at Aberdeen Royal Infirmary.
His sons Paul and Tim, both directors of GSS, are both curlers and saw an opportunity to follow in their father's footsteps to raise awareness of prostate cancer.
Paul said: "We were lucky that our father had been undergoing a medical for insurance purposes and was completely unaware he was harbouring prostate cancer.
"In the curling world, players tend to start young and leave the sport for a while when they enter work or go to university, but many return to it, typically in their 40s or 50s.
"It struck us we had a very good platform to encourage fellow male curlers to speak to their GP about the PSA blood test, which is a possible marker."
Mr Mouat, the 2018 European champion said: "We are delighted to play our part in raising awareness of the risks many men face from prostate cancer.
"We hope that, by wearing the Prostate Cancer UK brand, the curling community will understand better the one in eight risk."
Bronwyn O'Riordan, Prostate Cancer UK fundraising manager in Scotland, was delighted to meet Mr Mouat and receive the donation.
He said: "It's fantastic to see another sport engaging with us, this is a great opportunity to raise awareness amongst the members and fans of support."