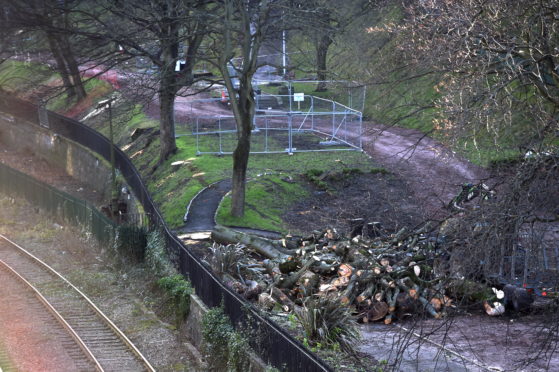 Council workers have begun felling dozens of historic trees in Aberdeen's Union Terrace Gardens as a multi-million-pound renovation of the park continues.
A massive £28million scheme is ongoing to refurbish the sunken Victorian gardens and turn it into a destination spot with water and lighting features, community gardens, cafes and shops.
However for the work to proceed council bosses are cutting down 46 trees, including hollies and English oaks.
The tree felling has prompted anger from local councillors and residents but the local authority has insisted that new planting will also take place.
Meanwhile a new report to the council's operations committee next week reveals that the local authority has already spent £ 3.7m of the £28.3m budget with the park still expected to reopen by Summer 2021.
This spring, work will start on long-awaited safety measures on Union Terrace bridge with Union Terrace will becoming a one-way system on January 27.
The report reads: "Improvement works are now under way through the design for Union Bridge which is intended to improve the suicide deterrent measures with the current barriers providing such mitigation until this element of the project is complete.
"The contractor has carried out a number of trial holes on Union Terrace to establish the extent of works required for the jack arch slab replacement and to confirm the position of the SGN gas main three.
"Sanitisation of the Victorian toilets has been completed, prior to conducting further investigative works within the building."