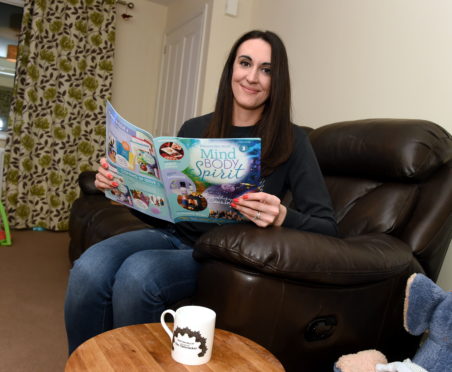 A north-east charity says it is vital that women who have lost a pregnancy seek help following the results of a ground-breaking study.
Researchers in London and Belgium have found that one in six women who suffer a miscarriage or ectopic pregnancy could be left with long-term stress for almost one year after.
The study, which was the largest-ever of its kind, also found that one month after pregnancy loss, one-third of women had post-traumatic stress.
In addition, one-quarter had anxiety and one in 10 had depression.
The results have led to calls for women to speak more openly about their experiences and ask others for help if they are struggling.
Abi Clarke, the chairwoman of Aberdeen charity Miss (Miscarriage Information Support Service), had a miscarriage when she was seven weeks pregnant.
And after running into difficulties when looking for help, she set up her organisation to prevent others from going through the same struggles she did.
Miss has since become a registered charity which offers a number of regular meetings and a 24-hour phone support line.
Mrs Clarke said: "When I went through my miscarriage I was quite closed about it and didn't want to speak about it.
"I think it's got a taboo feeling and there are various reasons for that. Some people blame themselves and feel guilty and ashamed of their body."
And having spent the last three years supporting other women who have faced pregnancy loss, Mrs Clarke says those feelings are more common than she initially realised.
"I didn't want to speak about it but after a few months I wanted to tell my friends and family as they could obviously see a change in my personality," she said.
"But when I started speaking to them they also started opening up and others who I've known for years said they had gone through a similar situation too.
"It made me aware we don't have to go through this alone and that there is support available."
Consultant gynaecologist Professor Tom Bourne, who led the research at Imperial College London, said: "Pregnancy loss affects up to one in two women, and for many women it will be the most traumatic event in their life.
"This research suggests the loss of a longed-for child can leave a lasting legacy, and result in a woman still suffering post-traumatic stress nearly a year after her pregnancy loss."
He added: "The treatment women receive following early pregnancy loss must change to reflect its psychological impact, and recent efforts to encourage people to talk more openly about this very common issue are a step in the right direction.
"While general support and counselling will help many women, those with significant post-traumatic stress symptoms require specific treatment if they are going to recover fully."