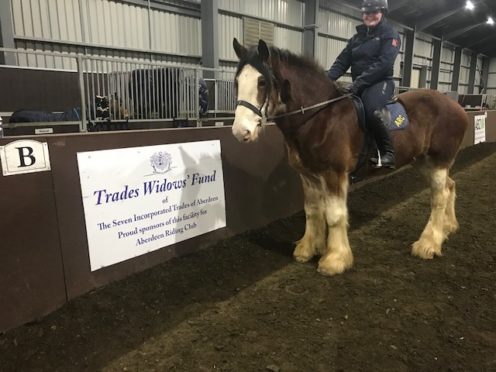 A north-east riding school has found a replacement for a much-loved therapy horse following its death.
Riders and staff at Aberdeen Riding Club were heartbroken when the decision was made to put down the popular Clydesdale, Twiggy, recently.
The procedure was carried out after the 27-year-old female lay down in its stable for six hours and was unable to stand up again.
Twiggy was popular with her handlers and generations of enthusiasts, having been one of the club's original horses – and even starred in pantomimes.
The club appealed for another animal to take the horse's place following its death, and ensure that people could continue to benefit from the same type of lessons.
Staff were "humbled" when they received an anonymous £1,200 donation towards the purchase of a replacement, from someone who read the situation in the Press and Journal.
And they have now used the cash to buy Hamish from The Skinners of Strathhorn Farm Stables
Club director Sally McCarthy, said: "We were willing to take time to find the right replacement for Twiggy and temperament was what was most important to us."
The 16.3hh Clydesdale has some training and will do some work with  staff and mainstream riding school members before starting to perform the therapy riding sessions.
Ms McCarthy said: "We didn't expect to find another horse so quickly but Hamish seems to be settling in well.
"He has big shoes to fill but he's just a gentle giant and, on his first day here, he was happy munching on his hay as if he'd been here all his life.
"Having a therapy horse is hugely important to us so we're really grateful."