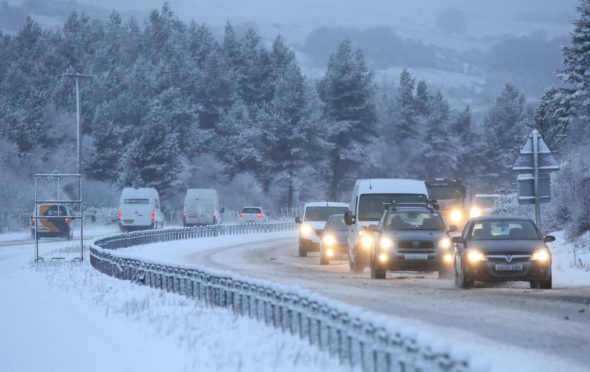 Drivers were warned of potentially dangerous road conditions in the north and north-east this morning, with as much as six inches of snow and freezing temperatures forecast overnight.
The Met Office warned motorists in the Highlands, Moray and the north-east of treacherous driving conditions and issued a yellow warning for snow and ice which applies until 11am.
The north-west Highlands were expected to be among the worst affected by the Arctic cold air sweeping the country, with Met Office forecasters predicting six inches would fall on higher ground above 1,150 feet.
In lower lying areas, more than an inch of snow was expected.
But meteorologist Tom Morgan said with the warmer temperatures in the north-east of around -2C, the largest risk was untreated frozen road surfaces.
He added: "It will get better quite quickly this morning.
"Roads such as the A9 towards Aviemore and other roads around the Cairngorms like Braemar will possibly see a lot of snow.
"But there could be some snow in even lower levels of Aberdeenshire, although coastal regions will not see much at all.
"That is a warning for ice because we expect the wet roads to freeze."
The Met Office forecaster said Aberdeenshire would live a "charmed life" and enjoy some sun throughout the day while some Highland parts could see another couple of inches of snow fall.
He said: "It will be good news for ski resorts like Glencoe and the Nevis Range."
Council gritting teams were out in force last night and early this morning to grit main roads and pavements while Bear Scotland promised an "around the clock" effort to keep the trunk roads safe.
Temperatures are expected to recover into double figures by Thursday.