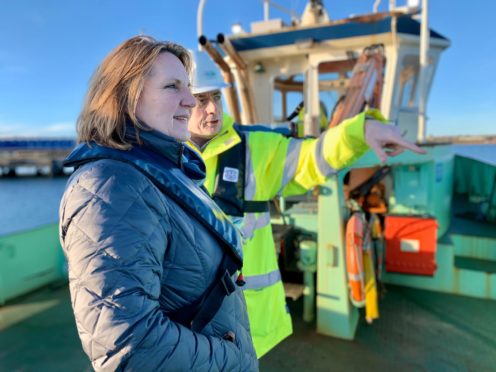 Scottish Conservative leadership candidate Michelle Ballantyne has pledged to deliver a "sea of opportunity" for the fishing industry.
The South Scotland MSP met north-east skippers in Peterhead yesterday to outline her vision for a post-Brexit sector deal.
If she is elected leader of the party, Mrs Ballantyne has pledged to broker a package of benefits for Scotland's coastal communities and drum up funding for ports, fish markets and processors.
Mrs Ballantyne said: "Like fishermen across the north-east, I voted to leave.
"I share their anger at the common fisheries policy and their hopes for a better future.
"The SNP would choose selling out our fishing industry to Brussels over allowing it to flourish outside of EU control.
🍽 It wouldn't be a proper visit to Peterhead without enjoying some fish and chips at the legendary Dolphin Cafe.

It's definitely the plaice to be to taste the benefits of the #seaofopportunity 😉#BackingBallantyne 🏴󠁧󠁢󠁳󠁣󠁴󠁿🇬🇧 pic.twitter.com/aL1ewVgQRQ

— Michelle Ballantyne (@MBallantyneMSP) January 28, 2020
"As the north-east knows too well, it isn't only the crews on the boats but the factories and towns that ebb and flow with the successes of the industry.
"A sector deal, like the deals signed off for the oil and gas industry, will leverage in the government support to invest in our ports, our fish markets and help our processors to build up capacity to sell their product across the world.
"If I am elected leader of the Scottish Conservatives I will passionately champion the sea of opportunity for our fishing industry and a Scottish Government I lead will set out a new deal for coastal communities that will enable them to make the most of our new post-Brexit future."