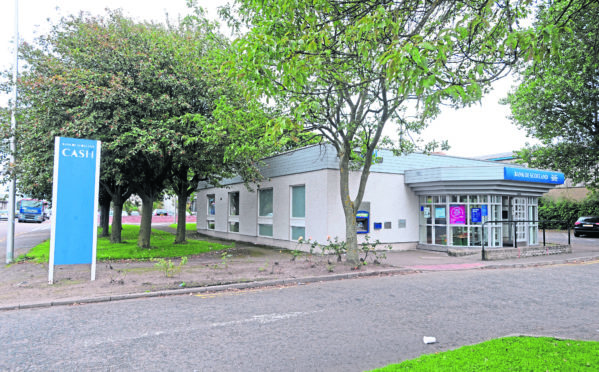 The Bank of Scotland has provoked fury after confirming that branches in Turriff, Huntly, Tullos and Grantown-on-Spey will be closing later this year.
Lloyds Banking Group announced yesterday that they would be shutting 31 Lloyds, 10 Halifax and 15 Bank of Scotland branches.
Customers are being reassured their local Post Offices will cater for day-to-day banking, but this has not been well received by politicians and members of the public.
A Lloyds Banking Group spokeswoman said: "We have confirmed that a number of branches will close between April and October this year.
"This is in response to changing customer behaviours and the reduced number of transactions being made in branches."
MSP Gillian Martin said she was "deeply disappointed" with the news particularly since  there were recent bank closures in rural areas.
She said: "Whilst I recognise that branch use has been declining, there are still important and legitimate questions regarding security and disabled access in the alternative banking provision.
"I'm calling on the Bank of Scotland to work with me to put measures in place to provide specific support for vulnerable groups, retain the current cash point and ensure local businesses are supported during this transition period."
She called for reassurances that jobs would be safe.
Accord Union – the trade union used by the Lloyds group – said they "expect" the closures to be similar to those in 2019 which were "managed without compulsory redundancies", but confirmed they think there will be fewer than 80 job losses with most employees being redeployed.
In a statement, they added: "These are the first closures to be announced since August 2019 and the scale will take some by surprise.
"For our members, there's the possibility of disruption to their working hours and work-life balance. And for customers, there is the inconvenience of getting used to where their nearest Post Office is."
Conservative MSP Peter Chapman said residents in all the areas would be "bitterly disappointed" by the "massive blow" of more branches closing.
He said: "Particularly in the rural locations, customers face marathon round trips for basic banking services.
"I can't help but think these closures are a backwards step when banks should be backing our high streets."
Turriff branch closure will impact town as a whole
Turriff Business Association has said it is "devastated" by the news a second High Street bank is closing.
Bank of Scotland released information about the Turriff branch which said the counter was 16% quieter than a year ago with only 134 customers using it on a monthly basis.
It will close on June 30.
Marjory Chalmers, chairwoman of the Turriff Business Association and owner of Traffords Coffee House, was surprised by the news.
She said: "I'm so shocked, I'm just based across from them and it's busy. People come across for coffee afterwards and visit other shops as some travel to visit it from Oldmeldrum and places like that.
"This will impact on Turriff footfall. We have a brilliant High Street and this is another thing that could make it less so.
"Since the RBS closed, they've been busier as everyone moved there but now everyone has to find somewhere else.
"Everyone is saying this is devastating news, because the TSB is only open two days a week and so it is not looking good."