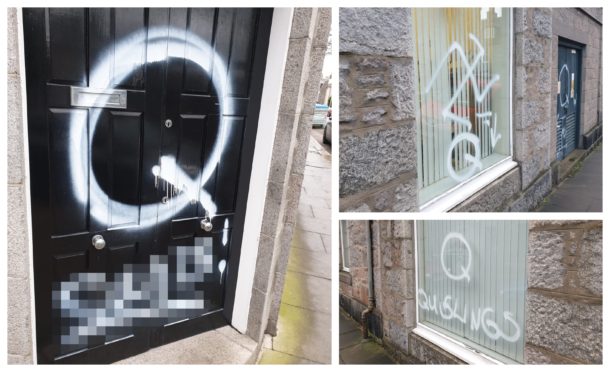 Two Conservative offices in Aberdeen have been attacked by vandals- covering the windows in "swearing and symbols of hate".
The Scottish Parliament office on Rosemount Place, which hosts several Tory MSPs, was daubed in white paint with the letter "Q"- thought to stand for Quisling – and a vile swear word.
And the nearby West Mount Conservative Association building has also been targeted.
A Tory spokesman said police had been informed.
There have been a number of attacks on north-east political offices around Rosemount in recent years, including in 2013 when a remarkably similar Q was daubed on the front of Labour and Conservative offices.
Labour MSP, Lewis Macdonald, said at the time there was no question the attack had been politically motivated – as the letter Q is Norwegian code for "traitor", dating back to when Vidkun Quisling collaborated with the Nazis in World War II.
North-east MSP Tom Mason works at the recently targeted office.
He said: "A member of staff came in to their place of work, only to find the office windows covered in swearing and symbols of hate.
"Rosemount Place is a non-political parliamentary office.
"Instead of helping constituents with their issues, they will spend most of the day dealing with this.
"Police will waste hours that could have been spent keeping people safe."