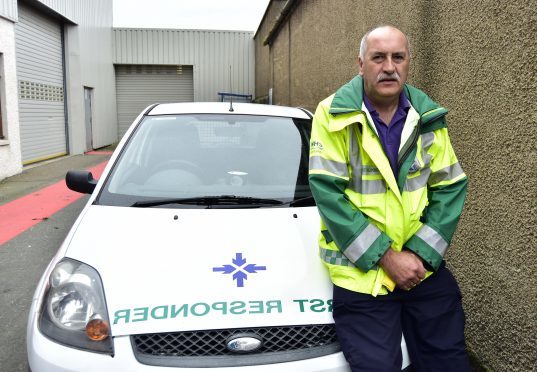 Volunteers from a life-saving charity were left shocked when "despicable" vandals targeted their van while they were taking part in a training session.
The police last night issued an appeal for witnesses after the Broch Community First Responder vehicle, and a car belonging to a member, were vandalised on Mid Street in Fraserburgh.
Wing mirrors were booted off the vehicles while members were taking part in training at the United Reformed Church Hall.
Two of the crew were late in arriving at the session as they had responded to a prior call and, in "a short frame of time" between arriving and finishing their training, they found the vehicles were damaged.
A post on the group's social media account raised fears that it was a "targeted attack", as no other cars had been vandalised.
Retired mechanic Donnie Harper, who has worked with the charity for almost four years, has since carried out repairs on the damaged wing mirrors.
He said: "It looked like the wing mirror had been kicked, when I came out of the training it was hanging by two wires.
"Thankfully there wasn't a call out while I was fixing them, otherwise I'd have needed to fix that before responding.
"When lives are on the line, every minute counts.
"It's really disappointing for someone to have done something like this, as the community has been so supportive of the work we do."
The group is funded by donations and responds to emergency situations on a voluntary basis, helping out while the ambulance is on its way.
PC Chris Arnott said: "This is a despicable act against a voluntary organisation who attend life-threatening calls."
This is not the first time the group has fallen victim to destructive behaviour.
In October 2017, two vans, gifted to the group by local firm Gray and Adams had their wing mirrors destroyed.
The latest incident is believed to have taken place between 8pm and 9.20pm on Tuesday, January 28.
Those with any information about the incident are encouraged to call 101, quoting CF0023680120.