Damaging weather ahead as Storm Ciara to batter north of Scotland
By
Gregor Aiken
February 6, 2020, 10:29 am
Updated: February 6, 2020, 2:28 pm
The Met Office has issued a yellow weather warning as Storm Ciara sets its course for the north of Scotland this weekend.
Wind speeds have the potential to reach 80mph covering the whole country from 6pm on Saturday and into Sunday night.
The damaging gusts could cause power cuts and destruction to buildings.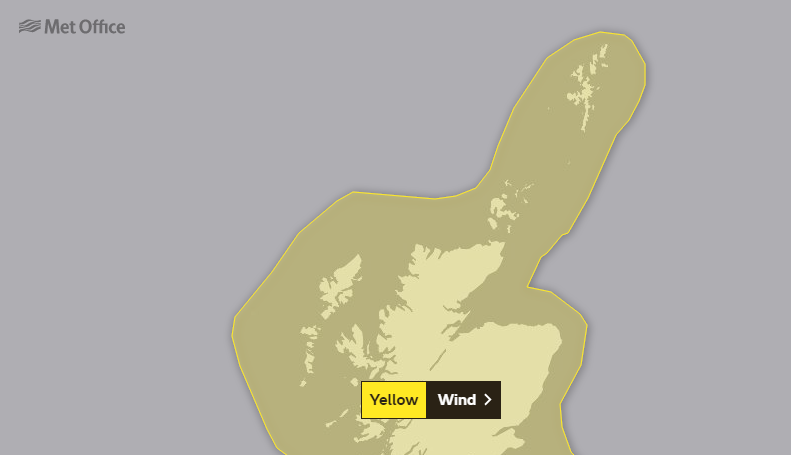 Bridges may also close and large waves and spray are likely to hit coastal communities.
Met Office Meteorologist, Alex Deakin, says the storm could be "quite nasty."
He said: "Storm Ciara is a deep area of low pressure bringing potentially damaging gusts of wind maybe as high as 80mph.
"An energised jet stream (from America) will move across the Atlantic on Friday.
"Subtle shifts in the jet stream will make all the difference as to where exactly will have the strongest winds."
Transport
Disruption to public transport is likely with a number of operators are preparing for the change in weather.
Loganair are offering customers the chance to reschedule travel plans with Storm Ciara approaching.
A statement said: "We are offering customers travelling on all Loganair flights the opportunity to adjust travel plans without charge.
"If you are booked to travel on February 9, you can choose to re-book on an alternative flight between now and February 26.
"There will be no change fee or difference in fare payable – if there is a seat available on an earlier or later flight, you can transfer your booking to that flight without charge on a first-come, first-served basis."
"If you choose to remain with your original travel plans, please rest assured that we will do everything that we safely can to fly you to your intended destination as close to the scheduled time as possible."
West coast ferry operator CalMac is also warning of the potential travel disruption.
CalMac's Director of Operations, Robert Morrison said: "Weather for the weekend is looking extremely problematic as far as delivering a scheduled timetable.
"There is a very high possibility of weather related disruption to services across all 28 of our routes so people should be aware of this before setting off on their journey. We will of course be looking keep sailings running when conditions allow.
"I would urge passengers to allow extra time for their journey, keep track of the status of their sailing on the website or on social media and be prepared for delays and cancellations."
Naming storms
Storm Ciara is the third named storm of the season which started in September. The naming convention now also includes the Dutch meteorological service, KNMI as well as existing partner Met Éireann.
Storms are named to aid the communication of approaching severe weather, helping the public to be better placed to keep themselves, their property and businesses safe.
In the wake of Storm Ciara, conditions will remain unsettled across the UK, it will turn colder with the chance of wintry showers and ice in some parts. It will also remain very windy.