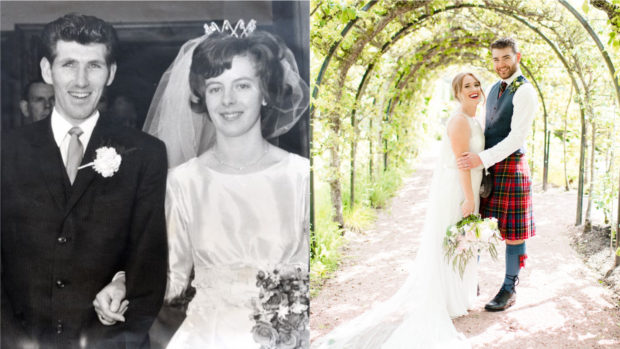 You can't put a price on love, right?
From a fairytale wedding in a castle to a swish affair at a country estate, couples are increasingly saying "I do" in style.
Bridezilla meltdowns, cackling hen parties and a towering cake are all par for the course when it comes to tying the knot – in recent years at least.
And with Valentine's Day just around the corner, there's nothing we love more than a good wedding.
There is clearly a price to pay for getting hitched, and the average wedding amounts to a heartbreaking £30,000.
We spoke to four couples across the generations to find out what has changed in the world of love.
Christine and Rob Boyle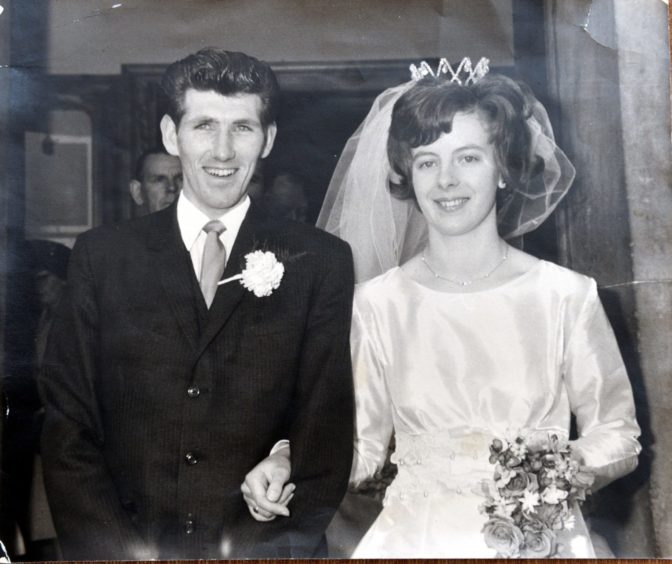 Christine and Rob Boyle met at a dance hall in Keith, but Rob first spied his future wife in the fish and chip shop.
They are set to celebrate their 54th wedding anniversary after getting married on April 2 1966.
The couple, who live in Dyce, Aberdeen, still have the carefully itemised bill from
their reception – with the total cost amounting to roughly £51, seven shillings and six
pence.
"We met at a dance, it was Keith Show day and I always got to go along because of my work as a clerkess," said Christine.
"I was at the chip shop with my pals beforehand. Rob was with his friends and I think they thought to themselves, we'll follow those girls to the dance."
The rest, as they say, is history, and the pair went on to have two daughters and six grandchildren.
"It was the August of '63, we started courting after that," said Rob.
"We didn't live together, that wasn't on the cards. I lived in digs in Keith, Christine lived with her mum. I had to ask her permission before proposing to Christine and I saved up a fair while to get the ring.
"We were 18 and 19 when we met, I think the ring cost around £38. That was a lot of money back then, as I only earned around £8 a week."
The glittering band still adorns Christine's finger today, and the pair were engaged for a year and half before the big day rolled round.
"We got married at the church in Keith," said Christine.
"There was a registry office, but everyone we knew got married in church. Fifty-eight people attended the service in the day and I had one bridesmaid plus a page boy.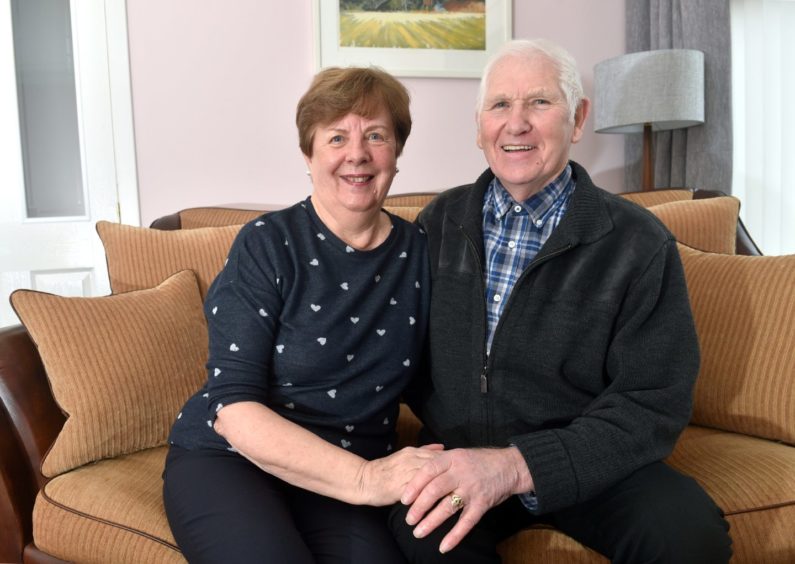 "My dress had long sleeves and little pearls sewn on. I had a short veil and white stilettos, that was the fashion. I didn't wear much make-up, and a local taxi took me to the church. It had ribbons on for the occasion."
The bride arrived at the church on time and was greeted by a nervous groom.
"I wore a suit and my brother was the best man," said Rob.
"I thought Christine looked beautiful. She still does. We had a three-tier fruit cake from Simpsons, which was a baker in Rothes."
The couple and their guests enjoyed a three-course meal, which consisted of broth, roast beef and trifle, at The Royal Hotel.
"There was no wine at the table, I think the toast was done with whisky and sherry," said Christine.
"Telegrams were read out from people who couldn't be there and we had around 30 extra guests in the evening. I got changed into my going-away outfit and we left quite early on. It was a rust-brown short jacket and a straight skirt, complete with a matching blouse which had a bow.
"Our guests followed us all the way from the hotel to the train station, it was quite a crowd. They showered us in confetti and we kept moving from carriage to carriage, trying to shake it all off.
"We stayed at The Gloucester Hotel in Aberdeen for one night, then we went away to Edinburgh.
"A wedding was considered a special occasion, it was the start of your life together. We kept it simple, it wasn't about having a big showy day. We were given a baby's potty full of salt, it was meant to bring you luck for having a family.
"Our eldest daughter was born one year later on April Fool's Day, just one day before we celebrated our first wedding anniversary."
Emily Utter and Calum Reid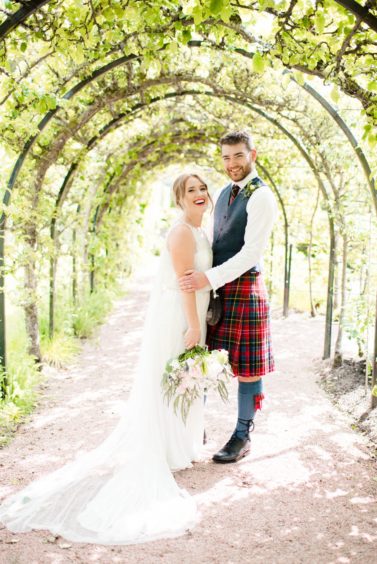 For Emily Utter, getting married was a chance to bring family together from across the globe.
The 31-year-old tied the knot to Calum Reid at an outdoor ceremony in Udny Green last year, followed by a reception in the local hall.
The pair believe they saved money after a short engagement, and planned their intimate wedding in just four months.
Coming in at around £15,000, the wedding costs were split between the couple and each set of parents.
"I met Calum through friends at Triple Kirks on a night out," she said.
"We were together for three years before we decided to get married. Because I'm Canadian, we got married sooner than we would have planned because I had to apply for a visa. As we planned the whole thing in a short time, it meant the wedding was only all-consuming for four months.
"We knew what we wanted, and we were really lucky to get a Saturday in June."
Emily also made sure to buy a dress which she could wear again, after spending £1,400 on the vintage-style gown and veil.
"It doesn't look very bridal, I wore it again because we had another reception in Canada," she said. "Luckily I was able to buy it off the rack and for a discounted price.
"As we had such a short time frame, I wouldn't have been able to order a new dress in time.
"I never dreamed of my wedding day growing up, I didn't think I'd ever get married.
"A piper played me down the aisle – it was a big surprise for my mum as it was The Skye Boat Song. She loves (TV show) Outlander, so it was planned with her in mind.
"As we had a hall wedding instead of a larger venue, Calum and I set up all the bits and pieces in the hall ourselves the day before. My dad even raked the grass on the green while we were waiting for the benches and tables to be delivered, and all our stationery was homemade.
"There were moments when we thought we should just elope, because it was very stressful. I wouldn't change anything about our day, though."
Phyllis and Michael Dunn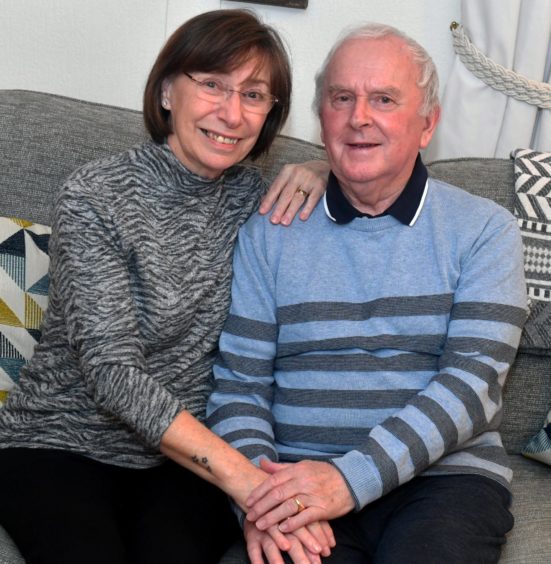 Phyllis and Michael Dunn also had a budget wedding, and got married one year after they met on November 15 1969.
Michael was able to woo Phyllis thanks to his Triumph Spitfire sports car. The couple met while working at The Palace Ballroom on Bridge Street in Aberdeen.
"I used to get a taxi home from work, when Michael came up in his sports car," said Phyllis.
"I quite fancied that and before I knew it we were getting married at the church in Torry."
The couple say their do was a "small affair", and 30 guests attended a reception held at The Dee Motel.
"There wasn't a lot of choice when it came to a wedding dress, I wore a short dress with an overcoat," said Phyllis.
"It was the fashion back then, I didn't want a veil so I had a headband instead. Toda Taxi came to pick me up, and my uncle tossed change out of the window on to the pavement. It was called a scramble."
The couple also cut costs thanks to family connections.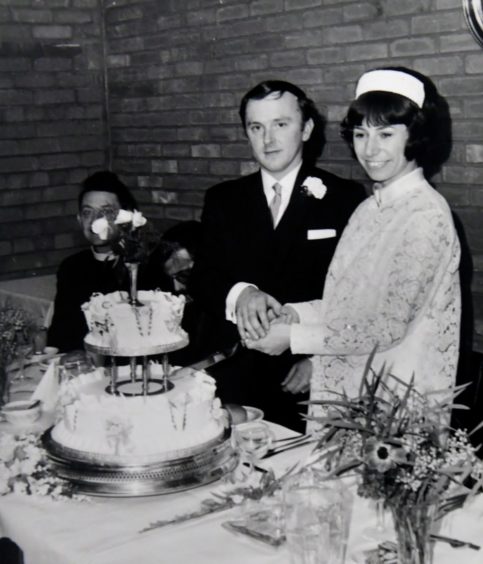 "My dad worked at one of the big bakers in Aberdeen," said Michael, "so we got our two-tier fruitcake through him. My friend did our pictures as a wedding gift.
"After the meal, we didn't have a band because we couldn't afford it. We just went through to the lounge, it suited everyone fine.
"It doesn't feel like we've been married 50 years, more like 10. I often think that people spend thousands on a wedding, only to split up two years later."
He added: "We're still together, so we must have done something right."
Samantha and Jamie Filby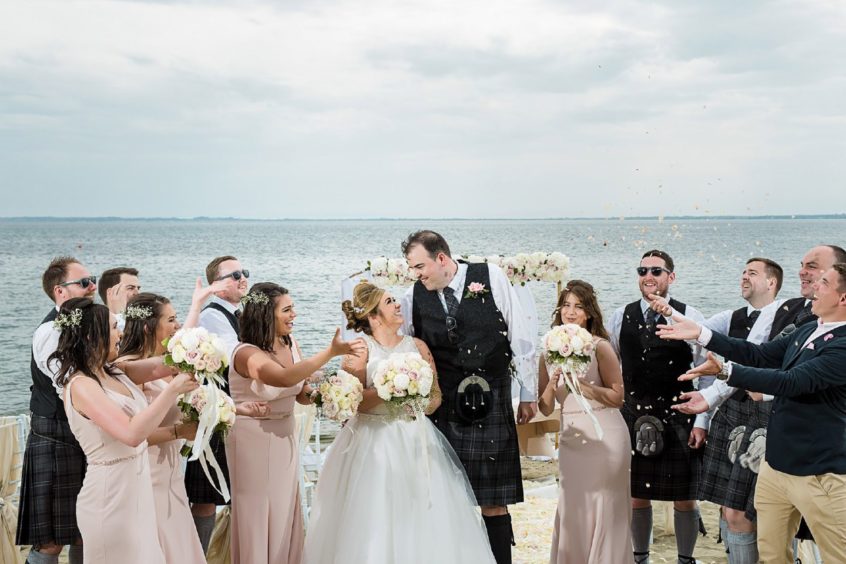 Samantha Filby spent two and a half years saving around £20,000 for
the perfect day with husband Jamie.
The couple, who live in Inverurie, got married in Halkidiki in 2018 – and invited 40 guests to join them on their special day. They believe the location enabled them to limit the guest list, and Samantha always had dreams of a beach wedding.
"I think we saved quite a lot of money by going abroad," she said.
"I'm a beauty therapist, and some of my clients mention the cost of weddings.Venues in Aberdeenshire charge thousands of pounds, and that's before you add anything else.
"I always dreamed of a floaty dress. My mum picked out something completely different, I was very hesitant to try it on. You should always go with what your mum says, it was perfect for me.
"I think Jamie had a budget in mind, but we had no clue how much the wedding was going to cost. It has gone extreme these days, you get pimp-your-prosecco stands and all kinds of stuff. Had I gone to wedding exhibitions, I would have been overwhelmed.
"We kept saving as we went along, and I don't think I'd change anything. Well, maybe my hair!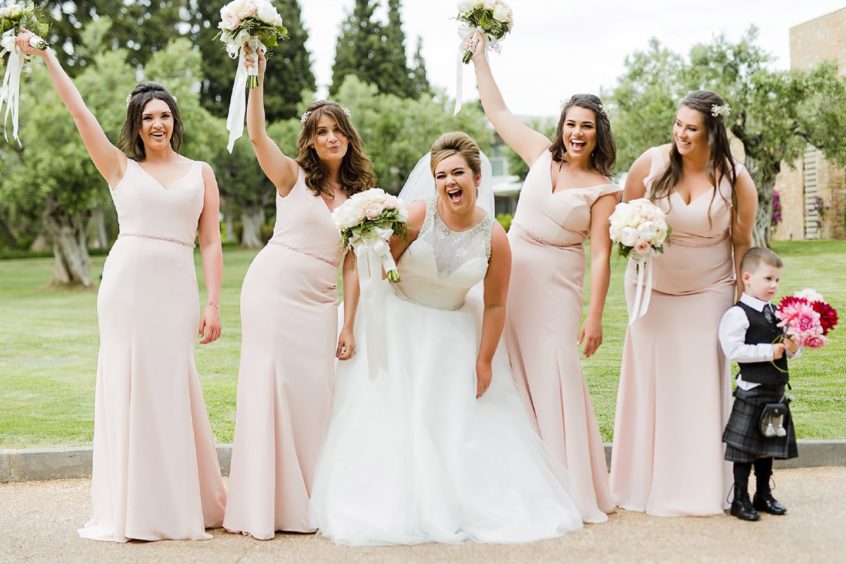 "There wasn't really the chance to experiment with different looks, but overall we were so happy with how everything turned out."