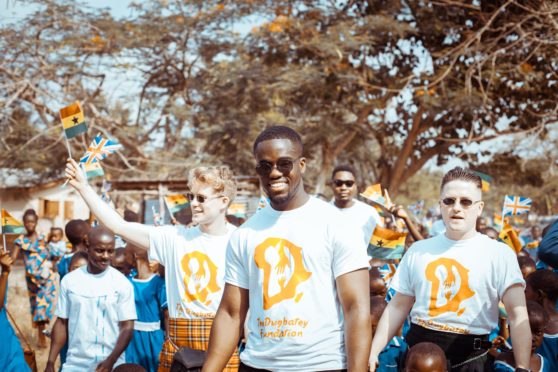 Three RGU students have returned from Africa following a fundraising campaign which has provided children with essential school supplies.
The Dugbatey Foundation was formed in 2017 by RGU Construction Management alumni Dugbatey Teye, who is from Accra in Ghana.
It now has more than 85 volunteers and has embarked on life-transforming campaigns to empower those less privileged in the African nation.
Classmates Sam Montague, 21, and Michael Robertson, 29, helped raise £4,000 which provided 200 new desks and a range of stationary for the village of Mfadwen in Ghana.
Streetsport has also donated a batch of sports bags and Yes Ball Games t-shirts towards the cause.
Streetsport and the Dugbatey Foundation have decided to collaborate from a sporting perspective by competing against each other from across the globe, with school children in Aberdeen going head-to-head with those in Mfadwen.
Following the successful campaign, the Dugbatey Foundation team were gifted 80 acres of farmland which will be managed by the trio to allow employment in the village and develop their community.
Mr Teye said: "Myself, Sam and Michael started working on the fundraising campaign in 2019 after we met at university.
"Our belief is that every single individual deserves the chance to realise their full potential and by supplying essential educational supplies, we allow the local children to learn and feel empowered.
"Our next aim is to raise £10,000 to enable the build of much-needed toilet facilities as well as the renovation of the school library."