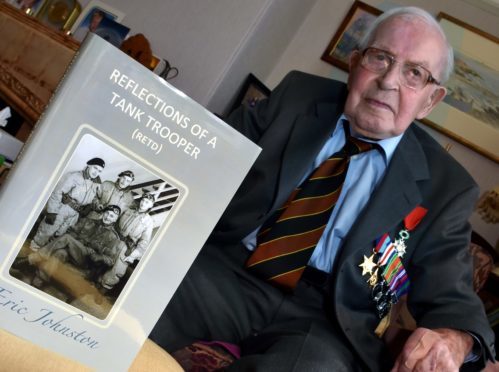 There was a time in 1942 when the outcome of the Second World War hung in the balance.
But Aberdeen's Eric Johnston was one of the people who made a difference in the conflict and moved from being a bank employee to winning the Legion D'honneur and being a pivotal figure during the D-Day landings in Normandy in 1944.
Mr Johnston left his parents, George and Isabella, disconsolate when, aged just 20, he decided to become a tank driver and worked as a reconnaissance trooper with the Royal Dragoon Guards.
He became one of the heroic figures instrumental in the preparation and implementation of D-Day, even though Mr Johnston was very critical of the manner in which hundreds of American troops died on their way to Normandy.
After the war Mr Johnston, who has died at the age of 96, worked in the banking world and he and his wife, Joan, moved all over the world, from Scotland to Palestine.
A fiercely single-minded character, he decided to record his memoirs in a book – which he wrote in his 90s – called Reflections of a Tank Trooper (Retd). The last word was typical of his approach to dealing with setbacks. As he related: "I was at a reunion and I mentioned some of my war memories to a friend.
A bank clerk who went to war has written his first book – at 94
"He said: 'You better put them down on paper. You won't be around forever, you know'. So I went home and started writing the book the very next day."
Mr Johnston – a keen mountaineer who also loved rugby – was the subject of one of 12 portraits, commissioned by Prince Charles, to honour D-Day veterans in 2015.
But he never regarded himself as anyone special. Indeed, he expressed guilt at how his military service had affected his family.
He said at the time: "My mother was very scared when I signed up. I didn't understand it at the time, though I might have broken her heart.
"I still feel very sorry, but I have never forgotten the look of relief on her face when I came home."
He attended the unveiling of the paintings of veterans at Buckingham Palace with his daughters, Helen and Sheila, and met the Duchess of Cornwall.
As he said, on the 75th anniversary of D-Day last summer: "I was proud to be in the British Army fighting the historical rarity of a just and legal war.
"It was a war which needed to be fought and needed to be won."