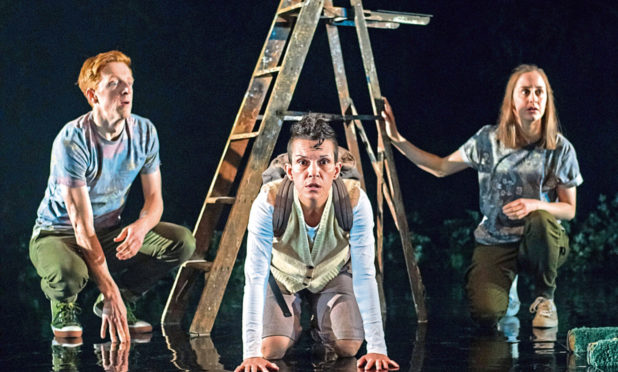 The innovative production of The Secret Garden captivated audience members of all ages when it made its Aberdeen debut at The Lemon Tree on Saturday.
As cast members wandered around the stage with choreographed precision, they engaged the audience brilliantly from the offset.
This adaptation of the classic 1911 tale, which follows the life of young Mary who has been sent to Scotland to live with her uncle from a war-torn country after the death of her parents, proved to be hilariously heartwarming.
Smoke smouldered the bottom of the stage as audience members at the packed-out venue waited in anticipation for the show to start.
The ingenious use of props didn't disappoint, with the three members of the cast using one ladder to create numerous modes of transport, including a train.
Itxaso Moreno brought the character of Mary to life, arriving as a shy, cheeky child and ending the play in the secret garden at peace with her new friend and cousin.
Cast as flowers and vegetables in the garden, audience members were told they were "cactuses" "cauliflowers" and "daffodils".
Playing Colin, Sarah Miele had the audience in fits of laughter at her portrayal of the hypochondriac ten-year-old who had been "dying since he was born".
Gavin Jon Wright exquisitely depicted Mary's friend Dickon and Mrs Medlock in Rosalind Sydney's adaptation which was produced by Red Bridge Arts.
The Secret Garden is undertaking a full Scottish tour and can be seen at Eden Court Theatre, Inverness, at 6pm on Monday, February 17 and 2pm on Tuesday, February 18 (01463 234234).