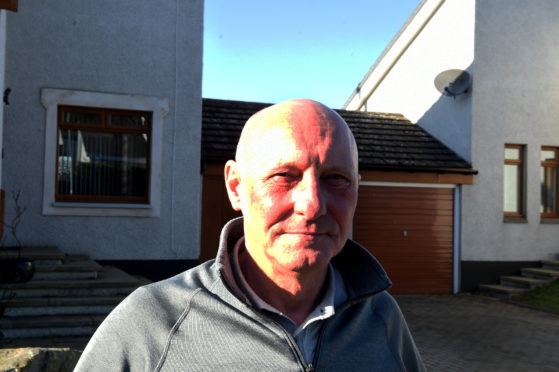 Frustrated residents in an Aberdeen street have been left 'phishing' for answers – with some homes getting super-fast broadband, while others have been left behind.
Cables were laid for homes in Boyd Orr Avenue in the Kincorth area of the city and scheduled to be connected to the new fibre-optics.
But while most homes can now benefit from enhanced connectivity, a dozen have not been hooked up, because the council has not "adopted" the homes.
Instead, they remain under the control of a private factoring company.
Last February, it was announced that CityFibre is investing more than £40million in the city to bring gigabit-speed connectivity to the city as part of a partnership with Vodafone.
Last night, a spokesman for CityFibre confirmed the 12 residents should now sign a form to be connected.
Boyd Orr Avenue resident Jim Pittendreigh said: "You would have thought they could have sorted it first or even sorted it out with the property management company.
"The cable literally finishes 20 yards from my door. I occasionally work from home so it would help me out. It seems a silly situation."
Business director Stan Milne said: "We have been in touch with the Vodafone providers but they say that, since it isn't adopted by the council, we will need to get a petition of all 12 of us before they'll connect us up.
"I don't understand why they couldn't have just written to us at the time they were laying the cables and then we'd all be in the same situation.
"I would like to think it will all be sorted quickly, but I'm not sure."
Scott McDonald was one of the residents who did receive the new facility.
He said: "Everyone on the street has been talking about it online.
"We are stuck with our current provider until June, but will be looking to get in the superfast broadband after that.
"It seems there is a bit of a situation with the neighbours. I think it's a bit silly they have to sign a petition rather than the company just asking them first."
Allan McEwan, CityFibre's city manager for Aberdeen, said: "We are fully committed to connecting as many residents as possible to our future-proof full fibre network.
"However, as the street in question is currently unadopted, we require the consent of residents before our contractor can build to all of the properties.
"If we gain this permission, we will be delighted to review again. The enthusiasm for full fibre in Aberdeen is high."