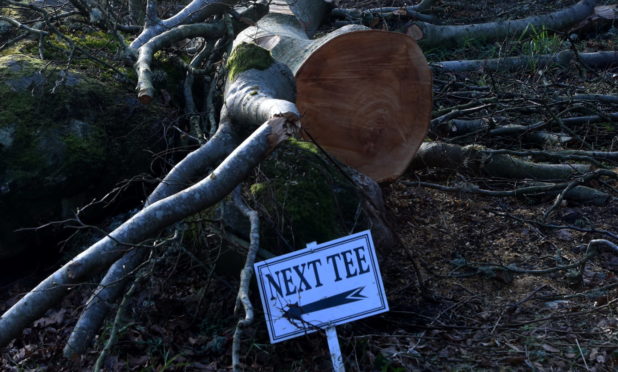 Scores of trees are being chopped down at an Aberdeen golf course in an effort to stop the green from flooding.
The work is taking place near Hazlehead Golf Course – which is run by the council-backed Sport Aberdeen charity.
Significant investment has been poured into the course since it had to close briefly following flooding on the greens in 2017.
It is understood that the works could cost in the region of £200,000.
In July 2018, a 10-week drainage programme was announced by the local authority and Sport Aberdeen to keep the facility open.
Some local golfers had expressed concerns about the loss of the trees, fearing it would ruin their sport and represented an excessive move.
But Hazlehead, Queens Cross and Countesswells councillor Martin Greig said the works were needed.
He said: "It's important that there is close and proper management of the woodland of the Hazlehead area.
"There has been deliberate felling and it is well-known that the golf course has suffered from a persistent flooding problem.
"The density of the tree coverage has helped to prevent the greens from drying.
"Trees are only felled for good reasons and the work has been carried out with proper permission."
An Aberdeen City Council spokeswoman said: "Trees are being removed next to the golf courses for woodland management requirements, to help with drainage and for health and safety reasons, in conjunction with Sport Aberdeen.
"There are approved felling licences in place."