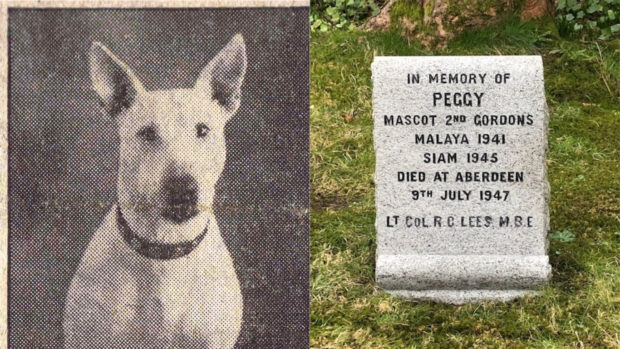 Her grave is one of the first things you notice when you enter the Gordon Highlanders Museum in Aberdeen.
And now Peggy, a heroic dog who comforted captured Scottish soldiers during the Second World War, is being recognised by veterinary charity PDSA.
The bull terrier will be posthumously awarded the PDSA commendation at a special ceremony at the Gordon Highlanders Museum in Aberdeen today.
Peggy became the 2nd Battalion's mascot after soldiers discovered her as an abandoned puppy in Malaya – now part of Malaysia – during the conflict.
She was a loyal companion during the Battle of Singapore in February 1942. The battalion was involved in fierce fighting before the British Army's surrender, meaning the soldiers and their canine friend were taken as prisoners of war to Thailand.
The Japanese refused to feed Peggy, so the captives would often share their own rations to ensure their loyal mascot did not go hungry. Prisoners were given no meat or vegetables, so Peggy used her instincts to hunt for rats, which the soldiers would cook and add to their meagre rations of rice.
Peggy was eventually freed, along with members of the battalion following VJ Day on, on August 15, 1945. Such was the bond between her and the Gordon Highlanders that the soldiers refused to travel back to Scotland unless she was allowed to join them.
She subsequently made Aberdeen her home, where she lived at the battalion's barracks until her death in 1947.
Peggy was nominated for the PDSA award by Stewart Mitchell, a volunteer historian at the Gordon Highlanders Museum.
He said: "Peggy was a loyal and courageous ally to her Gordon Highlander comrades. When she saw a Gordon Highlander being attacked, she would fearlessly try to intervene, often at the cost of a blow with a split bamboo cane or worse, a stab from a guard's bayonet. She bore the scars of these encounters for her entire life.
"Right up until her death in 1947, the regiment demonstrated a continued recognition and gratitude to her with her grave, at the Bridge of Don Barracks in Aberdeen, being marked by a granite memorial. This was later relocated to a prominent position in the grounds of the new Regimental HQ which is now the regimental museum."
Peggy will receive her commendation from PDSA vet Fiona Gregge, who said: "Her remarkable story has touched all of us. It is clear that members of the battalion drew a great amount of strength from Peggy's unwavering loyalty and friendship during what was a deeply traumatic time.
"The fact the Gordon Highlanders refused to board their ship home unless Peggy could sail with them speaks volumes about the bond that was formed."