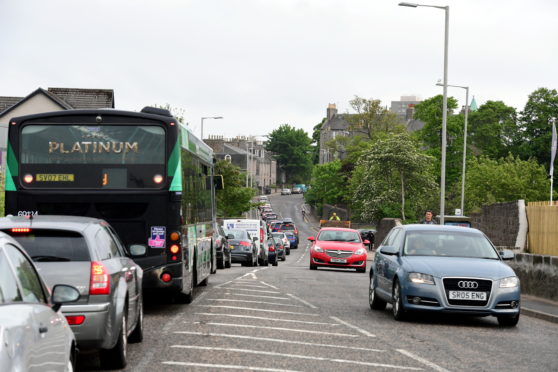 Proposals for a long-awaited dual carriageway hoped to ease Aberdeen congestion could be brought forward within weeks.
Planning applications for the new road in the Berryden Corridor are expected to be submitted by city road planners next month.
The idea was first floated decades ago and the route was due to be completed this year.
But finally, plans for the new sections of road between Skene Square and the Kittybrewster roundabout are expected to be lodged in March.
If approved by council, the expansion – last valued at £26.4million – would be a major upgrade for motorists facing significant delay in the area, particularly at peak times.
Mike Matheson, senior roads engineer with Aberdeen City Council, said: "We are getting ready to put in the planning submissions for the sections of new road that will require to be built.
"I think within the next three or four weeks we are planning to submit the application.
"Our best guess is that we are a year-and-a-half away from construction beginning and it is a two-year project."
The roads department still requires to gain permission for the scheme, but the land was marked for the new road in the council's local development plan.
Council officers want to widen existing roads and junctions between Skene Square and Ashgrove Road, and connect the route to a new dual carriageway from the Kittybrewster roundabout.
That new stretch would be built behind residential properties in Great Northern Road, on undeveloped land earmarked for the project for decades.
Plans include replacing all roundabouts on the route with traffic lights, with the exception of the one at Kittybrewster.
The increased use of traffic signal will also improve the chances to cross the road safely.
Planners have taken on feedback from public consultations held at the end of last year in an effort to get more people to walk or cycle.
Mr Matheson said: "What we are aiming to do, where we can, is put in segregated pedestrian and cycle facility along the length of the project.
"Older plans had a dedicated footway on one side and a proposed shared cycle and footpath on the other.
"We have moved away from that to provide cycling provision on both sides."
In 2017, ground investigations were carried out and disused garage buildings in Powis Terrace to clear ground for the new dual carriageway.