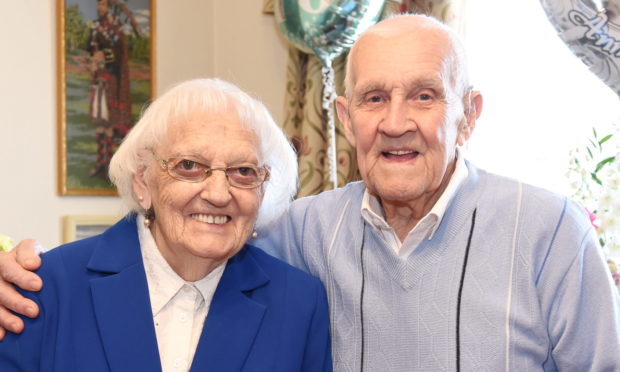 An Ellon couple who have lived in the same home since they tied the knot are celebrating their 70th wedding anniversary.
Gardener George, known as Dod, met Olive at a dance in Tarves in 1946 but Mrs Sinclair had previously spotted him before,as he walked near her house.
Then, while she danced with someone else, he approached her and their romance blossomed.
Four years later, on February 18, 1950, they were married at the Station Buffet in Ellon.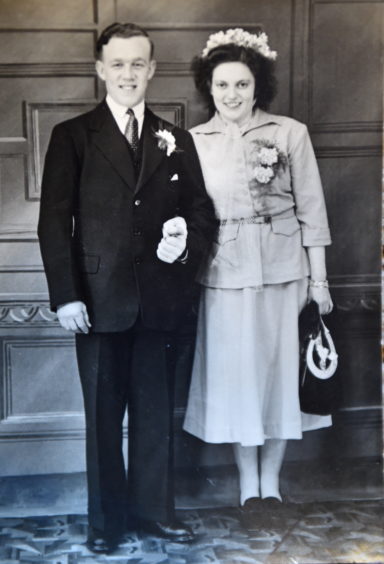 This week, Mr and Mrs Sinclair celebrated their platinum anniversary alongside some of their five children, nine grandchildren and 21 great-grandchildren – as well as marking Mrs Sinclair's 89th birthday yesterday.
When asked about the secret to their long-lasting marriage, Mrs Sinclair said: "We don't argue at all. All we did was raise our family and look after them.
"We just carried on our lives like normal and live happily with a nice and simple life.
"There is no room in the house to fit all of our family here at once, so just a few of them came round to see us on Tuesday.
"Most of them live around Aberdeenshire, so we see them all the time."
The pair still live in their first marital home, supported by a visiting daily carer.
Mrs Sinclair suffers severe vision loss and Mr Sinclair, 91, is deaf but both were delighted to receive their third telegram from the Queen – their 50th, 65th and now 70th anniversaries.