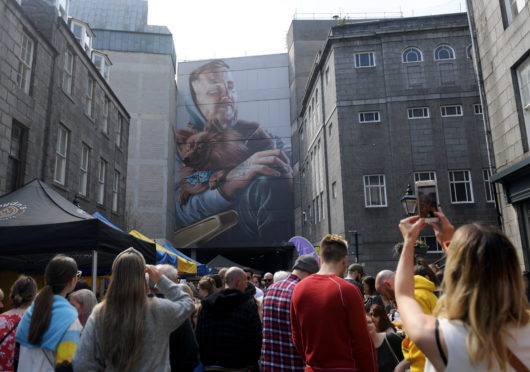 Street artists from all over the world are to be let loose across Aberdeen – after councillors voted to expand a colourful festival and fund it once again.
Around 30,000 people flocked to see the murals and installations of Nuart Aberdeen last year alone.
Yesterday, city councillors backed another three years of funding for the international festival – and revealed exciting plans to roll it out further.
Due to the involvement of Aberdeen Inspired, the art has been contained within the business improvement district.
Now, from next year, the world renowned street artists will bring a splash of colour and thousands of visitors to the rest of the city.
Aberdeen Inspired will still to work in partnership with the council to deliver the festival, albeit to a wider audience.
Last night, chief executive Adrian Watson said: "Nuart Aberdeen has achieved global recognition and has more than realised the collective investment from Aberdeen Inspired, Aberdeen City Council and numerous other partners in positioning Aberdeen and the wider north-east on the worldwide cultural stage.
"We can assure our levy payers and the wider public that the city centre will continue to be the main focus for the Nuart Aberdeen festival, but in moving forward we are open to having this world class event spread and placed at the gateways to our city."
Councillors had to negotiate a way of saving £37.9million to balance its books this coming financial year.
But, attracting more than 10,000 visitors to the Green in Aberdeen on a single day last year, the festival has been backed in the council's spending plans.
At the end of next month, the festival, organised by the team behind the inaugural Nuart festival in Aberdeen's twin city of Stavanger, will return to the city centre for a fourth time.
Mr Watson added: "We understand the significant challenge the council has faced again this year and their responsibility to protect frontline services.
"Aberdeen Inspired continues to deliver an ambitious and wide-ranging portfolio and we are grateful to the council for continuing to support us in pushing the city centre forward."