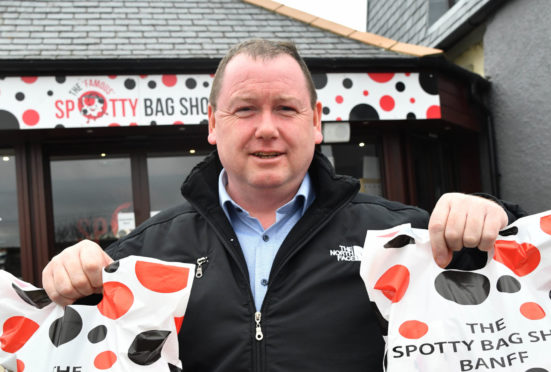 A north-east business owner who is helping the vulnerable and elderly as they face-up to reducing social contact is encouraging people in other areas to do the same.
Des Cheyne, owner of The Spotty Bag shop in Banff, has been working with his staff to prepare coronavirus kits to help vulnerable and elderly people in the local area who are in self-isolation.
Each kit is filled with essentials including hand soap, toilet roll and paracetamol and will be delivered for free.
Mr Cheyne said: "In times like this we really need to be looking out for the vulnerable and elderly people in our community.
"My staff are on board with this as they too see the importance of helping the elderly.
"This effort will help support those who are unable to get to the shops for the items they need."
If the situation worsens in the local area, Mr Cheyne said he will "look at expanding on the kits and deliver ready meals to those who need them as well".
He hopes other businesses will join him and support whatever community action is needed.
"It would be great to see other areas in the north-east taking the imitative to do something similar to help other people," he said.
Councillor for Banff and District, Glen Reynolds, is also coordinating  a response to help those in self isolation in Banff and the surrounding area and is encouraging volunteers to come forward.
They will help those self-isolating by delivering their shopping, posting mail, offering a friendly phone call or delivering urgent supplies.
Mr Reynolds said: "It's all about working together to get through this.
"I think Des' idea is superb and where possible I'd like to collaborate with him on this and work together to help as many people as we can."
Those interested in volunteering should contact Mr Reynolds on Facebook or through his council email at cllr.g.reynolds@aberdeenshire.gov.uk.
Those who need a coronavirus kit can arrange to have it delivered by contacting the Spotty Bag Shop on 01261 815623 or emailing admin@thespottybagshop.co.uk.